December 25, 2003
U.S. Mad Cow Discovery Promises to Rein-In Recent Gains for the Beef Industry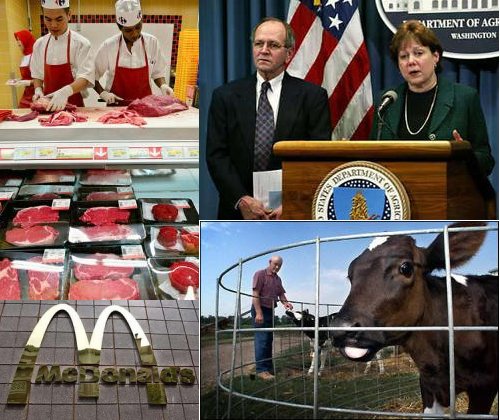 This isn't very Christmas-y but it's sure to affect a few different players in the food business, so here goes…
The first case of mad cow disease in the U.S., revealed on 23 December 2003, is likely to have a devastating impact on U.S. cattle and beef prices and could pummel the shares of companies like meat packer Tyson Foods and hamburger chain McDonald's.
The disease warning signs showed up when the infected dairy cow was sent to slaughter on 9 December. Inspectors described the cow as a "downer" before it was killed, meaning that it was unable to move on its own. Officials wouldn't comment on exactly why the animal wasn't mobile, but experts say there could be any number of reasons, including old age, injuries or disease.
By law, inspectors at slaughterhouses are supposed to reject cattle that have trouble walking and rule cows with supposed brain disorders unfit for human consumption. Sick cows are then be sent to a rendering plant, which is what appears to have happened here. Apparently, scientists took samples of the infected cow's tissue, to test for disease, while its brain and spinal cord, described as the "infectious" parts by Ag Secretary Ann Veneman, were sent on to be turned into protein feed and oil. As a result, "we believe the risk to human health is very low," Veneman said. As for the other animals that'll eat the protein feed, who knows?
Thanks to the Atkins Diet, beef prices have risen to where producers are finally able to turn a decent buck. All good things must come to an end, eh? For hamburger chains the concern is whether consumers will cut back on eating beef – a consumer backlash hurt McDonald's sales in both Europe and Japan after they reported mad cow cases in recent years.
Then 24 December, Japan, the world's top importer of U.S. beef, blocked imports and imposed an indefinite ban on U.S. and recalled other meat products already on the market. South Korea suspended inspections of U.S. beef, and suspended sales of meat already on supermarket shelves. Hong Kong, Australia, Taiwan, Singapore, Thailand and Malaysia followed suit. Russia also issued a temporary ban, while in Brussels, the European Union, which already bans much U.S. beef because of fears about growth hormones, said it would not take any additional measures against U.S. beef.
So really, how big a deal is this for the U.S. beef industry? Here's an excerpt on the impact from AP:
Antonia Mochan, a spokeswoman at the EU's executive Commission, said the United States was already classified as an "at-risk country" as part of the sweeping EU measures adopted following Britain's mad cow crisis, which began in the late 1980s and spread across western Europe. Under those restrictions, imports of specific risk products, such as brains, are banned.

The moves came after the U.S. government announced that a Holstein cow on a Washington state farm tested positive for mad cow disease, marking the disease's first suspected appearance in the United States.

British experts said the United States must seek out the help of countries that have experience dealing with the disease and must take swift action to restore consumer confidence in its beef stocks.

"The key here is to restore confidence quickly, not to allow it to drag out," Sean Ricard, former chief economist of Britain's National Farmers' Union, told British Broadcasting Corp. radio. "What I hope America will do is take rapid action, perhaps slaughter the herd that animal came from."

Ricard predicted a short-term slide in the price of beef in the United States.

U.S. Agriculture Secretary Ann Veneman said the risk to human health in this U.S. case was "extremely low." Parts of the cow that would be infected - the brain, the spinal cord and the lower part of the small intestine - were removed before the animal went to a meat processing plant.

The immediate reaction also reflected the widespread consumption of U.S. beef in Asia, where American eating habits have gained tremendous popularity in recent decades, as evidenced by the proliferation of fast-food outlets.

Australia - a major beef exporter that stands to gain economically from a bans on U.S. imports - placed a temporary hold on American beef, Agriculture Minister Warren Truss said Wednesday.

In Canada, where a single case of the disease was found in May, federal officials said late Tuesday that imports wouldn't be banned unless the suspected case was confirmed.

Japan's Agriculture Ministry said its ban applied to beef and beef products and took effect immediately.

"We must ban beef imports from the United States for the time being," said Health Minister Chikara Sakaguchi. "We must recall products that include so-called 'dangerous parts,'" such as brains and spinal cords.

Japan is the largest overseas market in value terms for U.S. beef. Exports totaled $842 million in 2002, accounting for 32 percent of the market for U.S. exports, according to the U.S. Meat Export Federation. South Korea is No. 2 in value, with $610 million. Mexico, the top importer of U.S. beef in volume terms, was third in value in 2002, a federation official in Seoul said.

Japanese authorities have been especially leery about mad cow disease since the nation's herds suffered the first recorded outbreak of the disease in Asia in September 2001, causing meat consumption to plunge. Consumption, however, has since rebounded.

While fresh imports to Japan have been banned, there was no widespread rush to pull American beef from supermarket shelves. A spokesman at Ito-Yokado, Japan's largest supermarket chain, said the retailer had faith in the safety of the beef already on its shelves and would sell its stocks.

The Aeon chain, however, said it was going to pull American beef from its shelves.

Ito-Yokado imports its U.S. beef from herds in the midwest, far from where the infected Holstein was discovered in Washington state, the spokesman said, speaking on condition of anonymity.

The United States supplied 46.5 percent of Japan's beef imports in 2002, or 226,524 tons, second only to Australia. There was speculation in Japan that the ban would cause major bottlenecks for restaurants as they scrambled to find other suppliers.

The mad cow scare already took a toll on restaurant stocks in Japan. Shares of Yoshinoya, a "gyu-don" meat and rice restaurant chain where 99 percent of the beef is American, plunged 9.4 percent, and stocks of McDonald's Japan, which said it exclusively serves Australian beef, lost 3.1 percent.

In Hong Kong, the territory's government said in a statement that the temporary ban is a precaution, saying "there is no evidence to suggest that U.S. beef on the market is unsafe."

In Singapore, the Agri-Food and Veterinary Authority said that if the mad cow disease case is confirmed in the United States, the country will not import American beef again until Washington certifies that it has been free of the disease for six years.

Taiwan said U.S. beef could face a seven-year export ban.

Mad cow disease, known also as bovine spongiform encephalopathy, eats holes in the brains of cattle. It sprang up in Britain in 1986 and spread through countries in Europe and Asia, prompting massive destruction of herds and decimating the European beef industry.

People can contract a form of mad cow disease if they eat infected beef or nerve tissue, and possibly through blood transfusions. The human form of mad cow disease so far has killed 143 people in Britain and 10 elsewhere, none in the United States.


Secretary Veneman mentioned she's serving beef at her place Christmas Day... but this makes me want to reconsider vegetarianism.
Merry Christmas Everyone,
- Arik
Posted by Arik Johnson at December 25, 2003 03:50 PM | TrackBack