August 25, 2005
Northwest Airlines: Mechanics Strike Will Negatively Impact Future of Organized Labor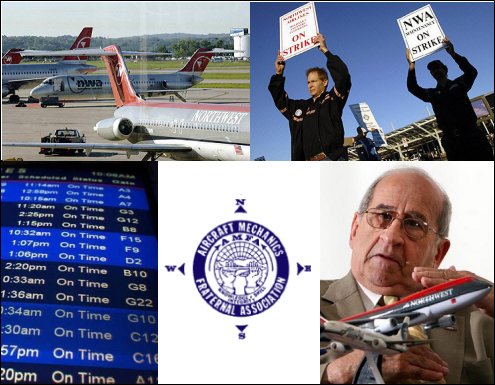 Thanks to savvy planning ahead on the part of Northwest Airlines (thank goodness I'm not traveling much in August) it would appear the mechanics strike is, not only, having minimal impact on operations, but causing significant enough dissent in the ranks of Northwest's other unions (pilots, stewardess, etc.) that fears it could undermine the very character of organized labor - at least in the airline industry - do not go unfounded.
While the AMFA (Aircraft Mechanics Fraternal Organization) would have us avoid flying Northwest because of warnings planes are unsafe under "scab" oversight, the walkoff by 4,400 mechanics, cleaners and custodians appears to be having a somewhat counter-intuitive impact... teaching Northwest (and competing airlines) that it can indeed survive or even thrive without union labor.
No new talks are scheduled between Northwest and the union, which is refusing to take pay cuts and layoffs that would have reduced their ranks by nearly half. The mechanics averaged about $70,000 a year in pay, and cleaners and custodians made around $40,000. The company wants to cut their wages by about 25 percent. AMFA represents about 3,500 mechanics, about 790 cleaners and 75 custodians.
Northwest has said it needs $1.1 billion in labor savings but only pilots have agreed to reductions, accepting a 15 percent pay cut worth $300 million when combined with cuts for salaried employees. It is negotiating with ground workers and flight attendants, and it has said it can reopen talks with pilots once it gets concessions from the other groups.
Company executives credit their contingency plan that took 18 months to create and say the plan to use temporary workers in place of striking workers required extensive analysis, as well as the cooperation of other unions and the federal government - even consulting with White House.
With more than one labor expert observing Northwest's ability to switch to new work routines and keep operating, at last at outset of the labor action, sends an important signal to unions that strikes may have lost their power as tools to fight job losses and other cuts.
- Arik
Posted by Arik Johnson at August 25, 2005 07:49 AM