May 05, 2005
Adobe + Macromedia = Domination of Content Creation Market: Can Competition Survive?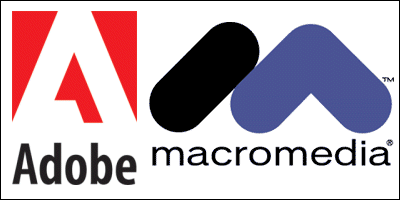 Tired of paying $449 for the Professional Version of Adobe's cornerstone Acrobat application? Well, don't expect it to get any cheaper... or to pay less for Flash development tools either - Flash MX Professional will set you back about seven hundred bucks at current levels and that's not liable to move south anytime soon, with the new degree of power the combination gives both companies in their fight to dominate the multimedia and document management landscape.
The fundamental question is, will Adobe's $3.4 billion buyout of Macromedia mean competition survives? Or are they just bulking up to take on Microsoft once Longhorn hits the street?
Anti-trust regulators shouldn't start salivating quite yet... I found a GREAT functional equivalent from ARTS PDF called Nitro PDF for $99 with a 30-day trial that has the potential to be, as advertised, the first real alternative to Acrobat in PDF creation!
Whether Adobe can absorb the acquisition is another question:
Computer document company Adobe Systems Inc. said on Monday it agreed to buy multimedia software firm Macromedia Inc. for about $3.4 billion in stock, a move designed to extend its lead in the market for creating and distributing digital documents.

Adobe, best known for its Acrobat document-sharing software, said the deal would help it meet rising customer demand for audio and video options that are compatible with hand-held devices.

Macromedia also gives Adobe access to the dominant animated graphics software on the Internet and which is also aggressively expanding into mobile phones.

The deal is the latest move in the long-anticipated consolidation of the software sector. It was initially welcomed by industry-watchers.

"Management is quite capable, but I think it is quite a big deal to be swallowing," said Robert Sellar, a technology fund manager at the UK's Aberdeen Asset Management, which owns Adobe shares. "$3.4 billion is a lot of money to be spending but (Adobe) are hugely cash generative."

Was this predictable? Of course... but there's a lot of opportunity to be unlocked here as well, including for some of their traditional competitors:
Amish Mehta, CEO of Corel Corp., which competes with both Adobe and Macromedia with its CorelDRAW Graphics, described the deal as "no big surprise. Consolidation has been going on for years in the software industry, and this is a continuation of that."

Mehta acknowledged that the deal might lead to decreased competition, but claimed that this might not be bad for existing Macromedia customers.

"At the moment, Macromedia is a one core-technology company. This deal means it will be able to offer more to those customers," he added.

The deal also offers several opportunities to Corel.

According to Mehta, the effective disappearance of Macromedia—the company's brand will vanish after the takeover is completed—leaves Corel as the sole remaining alternative to Adobe in the graphics market.

And for Mac users, the news might lead to some concerns.

"Today if you're Apple, you can't be too excited about this, as it leaves a lot of key software concentrated in a single company. Hence, there's an opportunity for us to say, 'Hey, we're here, let's work together.'"

To read more about what the merger means in the PDF space, click here.

Mehta added that if Adobe decides to divest itself of some of its products in the wake of the deal, Corel might be interested in acquiring them.

"At the right price, all kinds of products become interesting. We'd be interested in anything that complemented the products we already have," he said.

Gavin Drake, marketing director at Quark UK, pointed to the hole that the deal would leave in the competitive landscape of the publishing and design market.

"Lack of competition is not good for customers, and this definitely looks like it could be bad for competition," Drake said. "It'll be interesting to see what Macromedia customers think of the deal."

And the deal may yet have wider ramifications for the software industry, beyond design and publishing.

Joe Wilcox, senior analyst at Jupiter Research, claimed that the acquisition could lead to the emergence of a much tougher competitor for Microsoft in the business market.

"Microsoft should be more worried about Adobe than Google," he said, adding that while the penetration of Windows and Office has reached saturation point, the server market has become much more important as an engine for growth.

"Now along comes Adobe," Wilcox added. "Its pull is that documents are PDFs, which has certain advantages. For example, government departments sometimes insist that documents are submitted in PDF form. Macromedia fills in the Adobe product line, in areas where Microsoft isn't strong."

These areas, Wilcox said, include server products such as Breeze, Central, ColdFusion and Flex, bolstering Adobe's push into the enterprise.

The deal may be better for Adobe than for customers, analysts say. Click here to read more.

This addition of Macromedia products could also lead to Adobe dominating the rich media market: "There's an opportunity around making content in business more accessible and exciting," Wilcox said.

"But what if you then bring in more collaboration—something that's been an Adobe strength. What if Adobe could bridge the gap between static and animated documents?" Wilcox added.

However, Wilcox cautioned that in order to exploit this opportunity, "Adobe needs to hit the ground running. As soon as it closes the deal, it needs to bring out products that start to exploit the merged company."

But some of my favorite commentary includes the translation from PR-speak to real-world intentions offered by the companies in explaining their rationale for the merger, Pam Deziel (responsible for Acrobat strategy execution) figures there's 70 million seats worth of Acrobat software waiting to be sold, and Jim Rapoza at eWeek.com thinks they should open-source the Macromedia castoffs.
Both companies have many competing products, Dreamweaver versus GoLive, FlashPaper versus PDF, Illustrator versus Freehand, ImageReady and Photoshop versus Fireworks... Gary Hein, an analyst with Burton Group Inc. of Midvale, Utah, said, "I think that Adobe plus Macromedia forms a new wild card in some desktop- and graphics-related formats and standards. Both have great installed bases among desktops, and together they'll have much more influence in what happens with interoperable, cross-platform document, graphics and animation formations. It's interesting, to say the least." He added, "Adobe has some interesting technologies but is not as prevalent in the enterprise. Macromedia brings more credibility and a great technology portfolio to Adobe."
But an article by Don Fluckhinger on PDFzone shows some of the upside development possibilities:
At times over the years, the two companies have fought in heated rivalries. Who can forget the blood-and-guts Illustrator-versus-FreeHand battles for the designer's dollar in the 1990s? For the most part, however, they've co-existed peacefully.

The last bump in the road came mid-2003, when Flashpaper, an element of Macromedia Contribute 2, looked as though it might give PDF a challenge: While it was simple, Flashpaper seemed sleek, elegant and much less clunky than PDF for uploading documents to the Web.

A subset of Flash, the format never caught on in a huge way. Macromedia adopted an "if you can't beat 'em, join 'em" philosophy and provided a means to deploy PDF and Flashpaper together in subsequent versions of Contribute.

Now that Macromedia and Adobe are under the same corporate roof, though, the fun begins for PDF. You'd think that the merger—which will take place this fall, if things go as planned—would be all about combining competing multimedia applications.

But knowing that Acrobat has become lead dog in the Adobe revenue kennel, it was no surprise that in the press release announcing the merger Chizen didn't mention applications such as Director, DreamWeaver, Premiere or GoLive, but instead spoke of the "complementary functionality of PDF and Flash."

Yeah, that's right. It's all about us. So how exactly does Adobe-Macromedia benefit PDF?

- Is there such a thing as "more ubiquitous?" When you update your Flash Player, guess what? Maybe you should update Reader, too. And vice versa. Reminders should pop up every time either is downloaded; one company owning both pieces of software will help maintain current versions of both out there on nearly every computer hooked up to the Internet. This surely will help cut down on incompatibility headaches, such as when a user takes advantage of Acrobat 7 features in a PDF but a recipient using Reader 3 can't use them. The increased access to everyone's computer also offers the side benefit of making Bill Gates writhe in envy.

- Web PDFs could get smaller. The theory of Flashpaper is great: Get paper documents to the Web in no time flat, and the files are microscopic. There are many uses for a quick-and-dirty technology for users who really need to get a sheet or two of static paper up on the Web. Anyone who's had to suffer through a 5MB PDF download just to read a stupid two-page interoffice missive understands the principle.

- Mobile PDFs could become usable. Can the engineering brain trust of a combined Adobe and Macromedia finally make e-books, maps and manuals decipherable on something smaller than a laptop screen? They can be deployed today, sure, but they could be made much more useful. If this crew can't do it, it's just not possible.

- Multimedia PDFs could get robust. And here's the big one: Macromedia dominates the video and audio stage. Adobe dominates the parallel universe of text and graphics. People who use Macromedia apps want to more easily integrate PDF documents into their presentations. PDF creatives want to simplify implementing video and audio in their files and turn them into must-see content. That's going to happen.

It's a long process that will probably take a couple years before we see much difference. First the two companies have to please the stockholders and the feds by making the merger plan work on paper. Then, a couple new revs of the key applications need to make their way out into the market. After that, people have to figure out how to use all the new features they get in the box.

But just imagine seamless integration of Flash and PDF. I, for one, can't wait to see the rich-media creations that eventually will come out of this merger. On my iPod or cell phone LCD.

So should Microsoft watch out? According to analysts and commentators, Redmond is the biggest potential loser in this deal:
Paul Visco, a professor in the digital media arts program at Canisius College in Buffalo, N.Y., said he worries about competition, pricing and the future of graphic design.

"It seems as though much of the recent innovation between the two software giants was brought on by healthy competition. They had an array of software packages that had the same purposes, e.g. GoLive and Dreamweaver, Illustrator and FreeHand, Photoshop and Fireworks. If there is no longer any need to compete, then they might not continue to develop new products. It will effectively create a monopoly in graphic design."

Visco also voiced concerns about pricing. "Adobe can now say $1,000 for Photoshop, and companies and designers won't have any other choice. Look at Microsoft. Once you get really big like that, nothing matters."

Metaliq's Riddell said the branding issue concerns him. "It may be a tougher sell to some of our clients if there's a new brand on an older product. Is it the same thing or better or just rebranded?"

Wilcox talked about what else Adobe gets in this deal: new developers with different skills.

"Every business uses the PDF platform. Most of us just receive them as opposed to building them, but it's a cornerstone of business now," Wilcox said. "What makes this even more important to Adobe is now this exposes them to a whole new brand of developer.

"Microsoft has 48 percent of companies using their products from end to end. But Adobe now has a real opportunity to develop and serve the other 52 percent, the heterogeneous environments. And a whole new set of developers are going to get a chance to work with Flash."

So, despite there being overlapping products, Wilcox said he is convinced that this is a fit that's going to benefit both companies and make Adobe a major player against Microsoft for the heart of the enterprise business. "This acquisition just makes them so much stronger."

I found at least a two other analyses that posit the same competitive dynamics of Adobe versus Microsoft in a Longhorn OS world:
The deal marries Adobe's ubiquitous PDF and Acrobat Reader software with Macromedia's Flash products for creating media content. Adobe will also have a sizable portfolio of desktop software popular with creative professionals -- including Photoshop, Illustrator, and Macromedia's Freehand and Dreamweaver.

"I see this as both companies bulking up against Microsoft," said Steven Brazier, an analyst at Canalys.

The expanded Adobe could create a variety of rich media and Internet applications that use Flash, bumping into areas Microsoft has shown interest in, said Bola Rotibi, an analyst at Ovum. Although Flash is best known to Web surfers as a format for viewing animations, the technology is a powerful development platform, and Adobe said leveraging it will be a "key component" of its strategy for a combined company.

"When you think of where Microsoft is headed with the future of its Media Player and Media Center PCs, this goes head-to-head," Rotibi said.

Adobe also gains Macromedia's base of ColdFusion Web developers. RedMonk analyst James Governor predicted that dynamic forms that allow users to create, change, and share information online will be one of the first products of the marriage. Graphics automation is also in the cards. Both of these capabilities would fly in the face of Microsoft's plans.

"Adobe's ambition in this acquisition looks like a bit of a Longhorn-killer to me," Governor said.

Microsoft has been working on dynamic-form technologies and a graphics system called Avalon as part of its upcoming Longhorn OS. By moving into these areas, Adobe may be trying to cut the software giant off at the pass, analysts said.

Clearly, it's a win/win for both Adobe and Macromedia; but if you're a customer of, developer for or competitor with the combined company's products, you've got a new dose of uncertainty to try and digest.
And that pretty much includes all the rest of us.
- Arik
Posted by Arik Johnson at May 5, 2005 04:04 PM