December 24, 2003
Christmas Toy Wars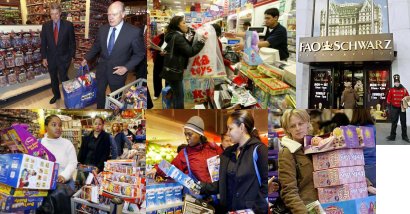 As Christmas Eve dawns, we see the end of the Toy Wars that have eroded a lot of the profit out of being in the toy business. Wal-Mart's price war has impacted toy-specific retailers the most - KB and Toys-R-Us - but KMart, Target and others are also feeling the heat.
Here's an excerpt from the San Diego Daily Transcript, that I think offers a good summary macro-view of take-aways similar to many local toy markets across the country:
FAO Schwarz's Zany Brainy children's toy stores are liquidating in what could be the beginning of meltdown in the toy industry. Zany Brainy, scheduled to have closed all its stores by the end of January, has numerous locations in San Diego, including a store in Fashion Valley, on Westview Parkway in Mira Mesa, and on Grossmont Center Drive.

FAO Schwarz, a toy retailer in danger of going out of existence, also once had a store in Horton Plaza. FAO Inc., the toy retailer's parent, filed for Chapter 11 bankruptcy for the second time in a year earlier this month.

On Nov. 17, as noted by Bloomberg News, New Jersey-based Toys "R" Us Inc., the second-largest U.S. toy retailer behind Wal-Mart, announced it would close 182 Kids "R" Us and Imaginarium stores.

Toys "R" Us closed its Imaginarium store in Horton Plaza after an unsuccessful run some years ago. A Kids "R" Us store that exists in La Mesa will be closed. While there are only a couple of Toys "R" Us-related stores that have or are scheduled to close in San Diego County, a look at the company's bottom line suggests that more closures could be on the way.

Toys "R" Us store locations in San Diego County include stores at 8181 Mira Mesa Blvd. in Mira Mesa; 1240 Morena Blvd. in Linda Vista; 1100 East 30th St. in National City; 1240 Auto Parkway South in Escondido; 2425 Vista Way in Oceanside; and 1008 A Industrial Blvd. in Chula Vista.

Toys "R" Us reported a net loss of $38 million, or 18 cents a share, in the quarter ended Nov. 1 compared to a net loss of $28 million, or 13 cents, for the like quarter a year earlier.

The Wayne, N.J.-based company had announced late last year it would be slashing 1,900 jobs and closing 64 stores as it continues a restructuring effort to focus on its core toy business, but the company hasn't been able to stop the bleeding. Pretax costs for the store closings are estimated to be about $280 million.

Toys "R" Us, like FAO Schwarz, is trying to keep Wal-Mart at bay. As noted by Bloomberg News, sales at Kids "R" Us stores opened at least a year dropped 11 percent, for the fifth straight decline.

A check of online prices at both Wal-Mart and Toy "R" Us revealed that the Swan Lake Beauty Castle that cost $109.99 at Toys "R" Us, cost just $98.97 at Wal-Mart.

Toys "R" Us is offering as much as 40 percent off merchandise such as Hot Wheels cars, but analysts wonder whether it will be enough.

"I can't really get comfortable about (Toys "R" Us) long-term competitive position," said Abhay Deshpande, a retail analyst at First Eagle Funds, whose $11 billion in assets don't include Toys "R" Us shares. Deshpande, who had personally owned the retailer's shares, dumped the Toys "R" Us portfolio in 2001.

While conceding it may not be able to compete with Wal-Mart on price, Toys "R" Us is hoping that specialized customer services, such as providing play areas with everything from play pens to jungle gyms, will help it regain its market share. "We have done a complete overhaul of all of our stores," said Toys "R" Us spokeswoman Susan McLaughlin. "They are brighter, cleaner and a lot more fun."

Karen Burk, a Wal-Mart spokeswoman, said the most popular items this year are the Barbie Swan Lake, Teenage Mutant Ninja Turtles and Leap Pad books.

Sometimes, the toys are a result of a partnership with another retailer. In a joint venture with Home Depot, Toys "R" Us is offering a toy animal collection known as "Barnyard in a Bag." Then there is "Go-Go, the Walking Puppy," a robotic dog for $35, that normally retails for $49.99.

Stores such as Toys "R" Us and KB Toy & Hobby of Massachusetts may have a difficult time competing head to head with Wal-Mart, because they carry many of the same items. There are four Geppetto stores in Fashion Valley, La Jolla, Bazaar del Mundo and at the Hotel del Coronado, and owner Brian Miller said the stores are doing fine.

"We're actually running a double digit increase, though I know that it's definitely not the trend," Miller said. Miller said there was what he referred to as "a bit of a shakeup in the toy industry," he responded with a blitz of newspaper and television advertising. The ads have paid off. "And we weren't afraid to buy inventory, so we're well stocked," Miller said. While admitting there are items that are sold in both stores, Miller said that Wal-Mart doesn't have the hand made items, nor the customer service.

Jules Martin, owner of Hobby Central, whose business is in the same shopping center as a Wal-Mart in Poway, said while there are a few things such as rocket motors that people might be able to get cheaper at Wal-Mart, they are not likely to find a person to give them chapter and verse about model rocketry.


There were a few other trend-pieces that I thought would make for good reading this holiday season:
Have a blessed holiday,
- Arik
Posted by Arik Johnson at December 24, 2003 03:50 PM | TrackBack