September 05, 2005
Labor Day 2005: The Sad State of Labor Unions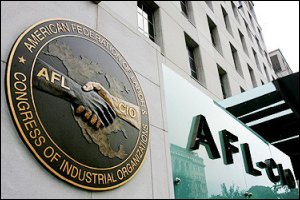 As we recall this Labor Day 2005, I'm inexplicably drawn to ponder the future of organized labor, which seems to have been dealt such crushing blows over the summer, the latest having been the Northwest Airlines mechanics strike that has, by all appearances, been a non-event for the company.
But before that in July, much more serious events took place. Three of the AFL-CIO's biggest unions - the Teamsters, Service Employees International Union and the United Food and Commercial Workers - bolted from the federation. Critics complained the labor group, made up of more than 50 unions, was spending too much money on political campaigns and not enough on organizing unions, and lacked a good strategy to increase its numbers.
AFL-CIO President John Sweeney said today he was in talks with the disaffiliated unions' leaders. He added that a recent move to create local agreements known as "solidarity charters" - which would allow local and state organizations with the breakaway unions to work with AFL-CIO unions in central labor councils and state federations - had received mixed responses. Though the two sides had made some headway in recent weeks, it was too soon to say when the groups might reunite with the AFL-CIO.
Still, labor is sick and tired of being sick and tired... and has taken its eye off the ball. The once-contentious issue of wage parity, the extent to which hourly pay should keep pace with CEO salaries, now seems quaint - workers no doubt would welcome a return to the days when their biggest complaint was that the boss made 100, or even 150, times more money that they did. And even as the economy grew last year, according to a recent Census report, income stagnated last year and the poverty rate rose. The flat income figure was the fifth in five years, a record the nation would have been better off not setting.
The connection between organized labor and wages generally was made last year in the annual report, "The State of Working America," by Lawrence Mishel, Jared Bernstein and Sylvia Allegretto of the Economic Policy Institute. They measured the decline of labor from about one-fourth of the working population a generation ago to about one-eighth by 2004.
Their conclusion is worth recalling today: "This falling rate of unionization has lowered wages, not only because some workers no longer receive the higher union wage, but also because there is less pressure on non-union employers to raise wages," they wrote. The gap in wages and benefits between union nonunion and union then was $30.76 an hour vs. $18.11.
I maintain that organized labor has seen the enemy and it is them. Unions cannot be expected to continue to remain a force for position change if they can't get their own house in order. I found the following story in the Sunday San Francisco Chronicle illustrating California's take on the split:
The three unions represented some 4 million of 13 million AFL-CIO members. Before July, they poured more than $20 million into the federation's $126 million annual budget.

They complain that the AFL-CIO has spent far more on political races -- with mixed-to-poor results -- than on organizing, which is necessary to shore up membership and clout.

Inside the AFL-CIO, the anti-Sweeney charge was led by Andy Stern, president of SEIU, one of the few unions that has grown in recent years. But Stern, once mentored by Sweeney at SEIU, lacked the votes to force an agenda change and present a successful challenge to Sweeney.

Stern is pressing on with a separate coalition of dissident unions called Change to Win. It includes SEIU, the Teamsters and the food and commercial workers union, plus three unions still in the AFL-CIO: the Laborers, Unite Here and the United Farm Workers. The Carpenters Union, which left the AFL-CIO in 2001, also joined. The coalition plans a one-day founding convention Sept. 27 in St. Louis.

"We are not going to try to recreate the AFL-CIO, but to try to build something new,'' Stern said. "Our goal is to build a more modern, dynamic, flexible 21st century group that can reward American workers in the same way we could in the industrial society, where we had union and government policy that created the greatest middle class in the world."

Last week, Sweeney said he believes the dissident unions will eventually return to the federation, the Associated Press reported. "I think we will see a united labor movement again,'' he said at a news conference, saying the dissidents know well that management has long tried to divide and conquer workers. "When workers unite they're stronger. The same goes for unions,'' he said.

At its peak in 1955, organized labor represented 35 percent of U.S. workers. Since 2000, the percentage of union-represented workers has slipped from 13.5 to 12.2 of the workforce. Less than 8 percent of non-government workers are unionized.

In California during that time, the figure has remained steady at 16 percent of the workforce. That's largely a reflection of an increase in the number of unionized health care workers, offsetting losses in other industries, said Ken Jacobs, labor policy specialist at the Center for Labor Research and Education at UC Berkeley.

"California has continued to buck the national trend," Jacobs said.

Labor's critics say union leaders have brought their troubles on themselves.

"The AFL-CIO is an intellectual Jurassic Park,'' said Peter Morici, an economist at the University of Maryland and former chief economist at the U.S. International Trade Association.

"In a world where size matters less and innovation and adaptability are 95 percent of business success, the company that succumbs to union demands for wages greater than the market will bear or for work rules that reduce agility and efficiency, will be vanquished by a swarm of competitors,'' Morici said.

He added that he is proud to have been a member of the gravediggers union and the United Auto Workers.

Peter Hurtgen, a law partner representing employers for the firm Morgan Lewis in Los Angeles and former chairman of the National Labor Relations Board, said he believes labor's decline in the private sector is due to a flawed message and image, and a misreading of workers.

"Employees don't want conflict and a fight in the workplace,'' said Hurtgen, a veteran contract negotiator and former director of the Federal Mediation and Conciliation Service. "I think they prefer a collaborative, partnering approach.

"Labor still essentially organizes, tries to organize, on the basis of the old fight paradigm. The original thought was there was eternal enmity between capital and labor, and we have to have this constant conflict. Hence, (labor needs) a champion, a fighter on their behalf to confront capital.

"I don't think a majority of American employees see it that way anymore. There are different interests that employers and employees have, but there is far more in common that they would try to collaborate on rather than fight over, and unions concentrate on the fight.''

Many union leaders don't buy that argument.

"Hell, we're not fighting enough,'' said Tim Paulson, executive director of the San Francisco Labor Council, representing more than 100,000 union members.

Paulson noted that in the long-running dispute between SEIU and Sutter Health hospitals in the Bay Area, the employer has rejected the union's proposal for the kind of cooperative relationship Hurtgen proposes.

Sweeney also blames employers for the lack of cooperation.

"I would love to see a period of time in this country when we could have more of what Hurtgen suggests. But this is a very hostile climate. Why do employers resist the right of workers to have a greater voice and to organize? That has caused a lot of confrontational issues and that is why we have to fight to achieve some dignity and fair collective bargaining,'' he said.

In San Francisco, Mike Casey, president of Unite Here Local 2, represents hotel workers who are among the best paid in the country. He said San Francisco hotel workers would not be doing so well if the union did not have contracts with 85 percent of the city's Class A hotels.

"Fifteen years ago, it was 74 percent, but if we had not organized 11 hotels over the last 15 years, it would have dropped to 60 percent. Would we achieve what we do with that? No.

"But even with that, it's only a matter of time. In our industry and other industries, the decline of unionization has absolutely led to the decline of the middle class.''

Casey has joined other California labor leaders in a battle to try to defeat what he says are anti-labor initiatives on the Nov. 8 ballot.

Proposition 74 would increase teachers' probationary periods to five years from two. Proposition 76 would give the governor greater flexibility over the budget, potentially affecting school funding. Proposition 75 would require teachers, firefighters, police officers and other public workers to give written consent before their union dues could be used for political purposes.

In the minds of some California labor activists, the threat posed by these measures is enough to make the AFL-CIO dustup pretty remote.

"Labor unions in California are as united as we have ever been,'' Paulson said. "We will turn the public's outrage at the governor's wasteful and unnecessary special election to defeat all his corporate-sponsored propositions, which were put on the ballot to further limit our voice at work. "

Karen Hanretty, spokeswoman for the California Republican Party, wondered if union leaders and members are on the same page. "I think there is a big divide between leadership and workers whose union dues are going to support issues and candidates that are either irrelevant to worker rights or potentially harmful to their jobs,'' she said. "As long as that continues, unions will have to fight for their long-term relevance.''
I found a good example of the disunity in organized labor in none other than the flagship newspaper in the heart of the labor movement, the Chicago Sun-Times in a story about two dissenting unions and their disagreement over organizing strategies at Chicago-based Advocate Health Care and Resurrection Health Care:
The recent split at the AFL-CIO put the spotlight on organizing and disagreements over how to best rebuild organized labor's depleted ranks.

But as workers pause to observe Labor Day, two major unions on opposite sides of the debate have found it difficult to organize major health care providers in the city.

For more than two years, the American Federation of State, County and Municipal Employees Council 31, which remains an affiliate of the AFL-CIO, has sought to organize nurses, technicians, housekeeping staff and other workers at Resurrection Health Care's nine hospitals.

Over the same period, the Service Employees International Union, which broke from the AFL-CIO in July, has targeted nurses, certified nursing assistants, dietary and other workers at Advocate Health Care's eight hospitals.

Despite the lengthy campaigns, no union representation votes have taken place at either health care provider. And the unions say workers and their representatives have had no success in landing meetings they've sought with the health care providers' executives to discuss a process by which fair elections can be held.

Hospital workers and representatives of both unions say Advocate and Resurrection hired consultants and created a climate of fear by using intimidation, unfair discipline and "captive audience" meetings to speak against unions, preventing fair elections.

Said Linda Luczak, a nurse at Our Lady of the Resurrection Medical Center, Workers "are just afraid that if they get involved, ... they're going to get fired."

She said she wants union representation in order to have a greater voice at work, and her concerns are insufficient staffing and its impact on her ability to deliver the best care to patients.

A registered nurse at Advocate Lutheran General Hospital, who is opposed to unionization and didn't want her name used, thinks no vote has occurred because workers would vote against unionizing. But she also believes workers are afraid.

Advocate and Resurrection representatives say they have good employment practices, including competitive pay and benefits and good working relationships with employees, making the unions unnecessary. They deny any wrongdoing and say they support workers' right to make their own choice through the traditional National Labor Relations Board process, which requires the unions to gather enough signatures from workers and to petition the federal government for an election.

The unions label the NLRB process flawed. AFSCME spokeswoman Shannon Gilson contends employers often violate the law and remedies are often ineffective.

In the midst of their campaigns, both unions have issued reports critical of the hospitals. The reports have prompted inquiries from legislators and other state officials and drawn community support for the unions' efforts.

SEIU issued a report last year accusing Advocate of spending significantly fewer dollars on capital improvements at hospitals in minority communities than it does at hospitals in predominantly white suburban neighborhoods. That followed reports and lawsuits that accused the hospital of charging uninsured patients more than insured patients.

AFSCME has issued reports criticizing reductions in charity care at Resurrection and its collection practices and supported efforts to revoke its tax exempt status.

The health care providers contend the reports have been inaccurate and misleading. Management of both institutions argue their hospitals are unfair victims of union corporate smear campaigns that have as their primary goal organizing their workers.

SEIU Hospital Accountability Project Director Joseph Geevarghese counters that SEIU is concerned about "broader social justice issues," which include affordability of health care as well as workers' rights to decide if they want union representation. Such issues have resonated with pro-labor community groups.

Gilson says AFSCME's reports reflect concerns about quality care and the affordability of care raised by workers at the hospitals.

Despite the absence of elections, the campaigns to unionize workers and address broader health care concerns are the correct strategy, according to Robert Bruno, a labor consultant and associate labor professor at the University of Illinois at Chicago.

"They have built up institutional campaigns using every means possible," he said, adding that working with community and religious groups is key.

Hospital representatives say the absence of organizing elections speaks volumes about the unions' ineffectiveness.

The lack of a vote does damage to organizing efforts in and outside Advocate and Resurrection, said Edward Herenstein, head of labor education at the University of Illinois in Champaign.

"It's not a good picture when people see that and they also see perhaps (workers involved in the campaigns) losing their jobs," he said. "Workers at other facilities are much less likely to want to undertake such activity."

The unions say they were prepared for a long campaign. Geevarghese said a similar effort at Catholic Health Care West in California, which ended with workers voting to unionize, took five years.
More interesting was my local newspaper's take on things, that rising benefits costs have pretty much wiped out raises and generally, the working-life stinks:
The U.S. workforce has undergone a serious facelift since New Yorkers staged the nation's first Labor Day parade 123 years ago, complete with German singers, Irish fiddlers, union bands and fireworks.

Labor Day hasn't been about organized labor since long before the Service Employees International Union, Teamsters and United Food and Commer-cial Workers and their 4 million members broke from the 50-union AFL-CIO this summer.

The three unions departed over complaints the AFL-CIO failed to cultivate members among 40 million white-collar and service workers whose jobs won't flee overseas. It leaves federation ranks filled with public-sector employees, not traditional assembly-line workers, at a time when just 8 percent of private-sector employees are unionized.

Traditional manufacturing has lost more than 4 million jobs since January 2000, even as the overall economy added more than 6 million jobs so far in the 21st century — including 2.4 million the last year. That 152,000-a-month average job growth kept pace with growth of the workforce since the employment market bottomed out after the 2001 recession.

But all is not lost in U.S. manufacturing, according to David Huether, chief economist for the National Association of Manufacturers. He cites reports of accelerating orders and production to foresee future gains in factory hiring above today's 14 million manufacturing employees.

Even before Hurricane Katrina sent oil prices spiking above $70 a barrel, workers saw gasoline costs soar 40 percent and other expenses claim a larger chunk of household income, which stayed steady at $44,400 the last three years.

Worker pay and benefits rose a scant 0.7 percent last quarter, the slowest pace in six years, even as rising energy costs pushed up consumer prices at a 3.3 percent pace. When inflation is taken into account, average hourly wages stood at $16.13 last quarter, almost what they were when the current recovery began in 2001.

Even so, Americans are working longer and harder for the money, losing the equivalent of a paid holiday the last 15 years, and they're still at it even though productivity has slowed from a blistering 8 percent-plus pace early in this economic expansion.

Wages also are giving way to higher benefit costs.

"In many ways, benefits have replaced salary as the No. 1 consideration of employees when deciding to change jobs," Janemarie Mulvey concludes in her "American Workplace 2005" report for the Employment Policy Foundation, the conservative Washington think tank she heads.

Consider that premiums for employer-provided health insurance mushroomed 59 percent since 2000, "far outstripping wage gains," according to National Bureau of Economic Research analysts Katherine Baicker and Amitabh Chandra.

"For workers who continue to get health insurance, more and more often the increased price of premiums is coming out of their salary: A 10 percent increase in premiums is offset by a 2.3 percent decrease in wages," the two find.

Besides health coverage, Mulvey also cites rising pension costs brought on by the three-year bear stock market and administrative overhead. The upshot: Traditional pension plans have shrunk to 20 percent of the workforce, with 401(k) accounts and other defined-contribution plans that were all but nonexistent 25 years ago exploding to cover 40 percent of workers.

As of this month, it's been eight years since the federal minimum wage last increased, to $5.15 an hour. Economist Isaac Shapiro of the Center on Budget and Policy Priorities, a liberal Washington think tank, said the purchasing power of the minimum wage has sunk 17 percent in the years since and is at the lowest percentage of today's $16 average hourly wage of nonsupervisory employees since 1949.

Put another way, United for a Fair Economy, a Boston group that charts corporate executive pay, says the minimum wage would be $23.03 an hour today had it kept pace the last 25 years with the hike in CEO pay, which spiked last year to $11.8 million on average, or 431 times the average worker's paycheck.

For most working families, you are where you live when it comes to payback for your labors. A new "Basic Family Budgets" report from the Economic Policy Institute, a liberal Washington think tank backed by business and labor groups, lets you compute basic living expenses in more than 400 communities nationwide. It finds that two adults and two children face the cheapest basic family budget in rural Nebraska at $31,080 a year. Boston is the most expensive, at $64,656, for that same family of four.
It's a real question also whether the labor movement is perhaps not a victim of its own success - the early wins it generated for Americans everywhere are today taken for granted. Which also represents and opportunity for renewed power by labor unions in an era when offshore outsourcing is impacting negatively the wage gap between the extreme rich and the middle class. Here's an excerpt from AFP that explores exactly that:
Even though most Americans acknowledge the overall gains from the labor movement, some say unions have failed to keep up with the global economy.

"While at one time organized labor played a valuable role in establishing workers' rights when there were few protected by government, today it is clinging to a world that no longer exists, and, in doing so, risks becoming completely irrelevant and ineffective," said Thomas Donohue, president of the US Chamber of Commerce.

"Ultimately, American business and organized labor should want the same thing: a more competitive and prosperous America."

But Dan Cornfield, a Vanderbilt University sociologist, said that unions have played a role in promoting equality of wealth.

Since the peak in labor union participation in the 1950s, he said, "income inequality has gone straight up, meaning a growing gap between haves and have-nots in our society."

There are some signs that the worst for the labor movement may be over.

A Peter Hart survey for the AFL-CIO found nearly 60 percent of working Americans are unhappy with the US economy, and that a record 53 percent who don't belong to a union would join if given the chance.

A recent Gallup poll showed that 38 percent of respondents said they would like to see unions have more influence, up from the prior year.

A Harris poll however gives unions negative grades -- similar to those of corporate America. The Harris survey found 75 percent believe unions improve wages and working conditions for all workers, but most said unions were "too involved in politics."

Mike Asensio, a labor lawyer who represents mostly employers, said that companies over the past few decades "have learned to be responsive to employees' needs," heading off organizing drives and leaving unions with less to "sell."

To revitalize the labor movement, Asensio said "unions have to show they can become more relevant" by moving beyond bargaining for pay and benefits.

Tim Kane of the conservative Heritage Foundation said in a report that unions may be a victim of their own success.

"The interesting cause of organized labor's demise is perhaps earlier victories -- the vast majority of Americans are now empowered and skilled to the extent that they do not need collective bargaining," Kane wrote.
Alas, as my father used to say, "find someone to buy that which you love most to do and you'll never work another day in your life". But for most Americans who find themselves worried about their income keeping up with prices, it's not nearly as much fun as those of us blessed with enriching work find our circumstances.
- Arik
Posted by Arik Johnson at September 5, 2005 07:54 AM