May 19, 2005
Star Wars Episode 3: Revenge of the Sith – Bravo!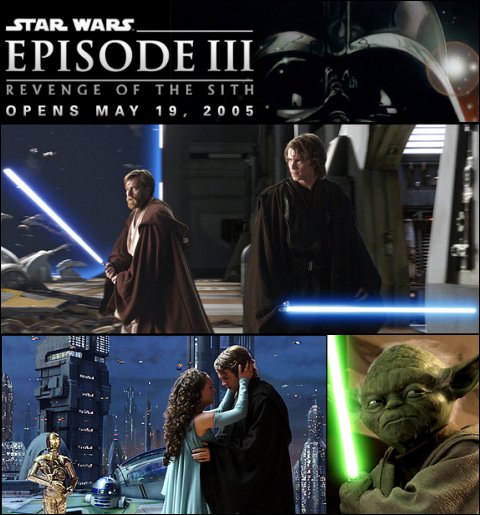 All I can say is, WOW! Nice job.
Reviews like that are sure exacerbate the so-called "Sith Sick-Out", ready to sap hundreds of millions of dollars of worker productivity as people stay up until midnight to see the movie and call in sick the next day – or just skip work altogether and see it a bunch more times. The phenomenon is expected to put a spike in worker absenteeism and costs businesses $626 million in lost productivity, according to outplacement firm Challenger, Gray & Christmas. Businesses should expect a wave of sick calls from employees playing hooky Thursday and Friday so that they can take in the movie.
"With opening day falling on a Thursday, instead of the traditional Friday premiere, we are looking at two days of 'Star Wars'-induced absenteeism," John Challenger, the chief executive of the firm, told the New York Post.
Challenger, Gray & Christmas based its estimates on attendance during the first two days of the last "Star Wars," "Episode II - Attack of the Clones," which drew 9.4 million. Assuming that half of those people will be full-time workers with an average per-day salary of $130.60, the two days would run $626.9 million in lost wages and/or productivity.
Meanwhile, entertainment blog called Waxy.org reported the movie has also been illegally leaked onto a Web-based file-sharing network, BitTorrent, allowing users to quickly download large video files and is used by about 2.5 million people each day.
Rumors the movie had been leaked were earlier believed false, but Thursday the blog reported that the movie had in fact been released on BitTorrent, and provided as proof a 19-second clip of the movie taken from the network. Waxy.org reports that the video is time-stamped, indicating it may have come from within the industry rather than from someone who videotaped an advance screening.
"If piracy and those who profit from it are allowed to flourish, they will erode an engine of economic growth and job creation; undermine legitimate businesses that strive to unite technology and content in innovative and legal ways and limit quality and consumer choice," Motion Picture Association of America Inc. president and CEO Dan Glickman said in a statement. The average cost to make and market a movie is $98 million, and less than one in 10 movies recoups its original investment from box offices in the United States, according to the Motion Picture Association of America.
So… great film… best of the new trio of prequels – but probably also the only film I'll see in a theater this summer. And that, my friends, is going to be a problem for Hollywood box office, but even more so, for theater chains.
Who'd want to watch a great movie on their computer anyhow?! Oh, yeah… pirates.
- Arik
Posted by Arik Johnson at May 19, 2005 02:37 PM