October 24, 2005
RIM's BlackBerry Under Threat from Rivals & Other Risks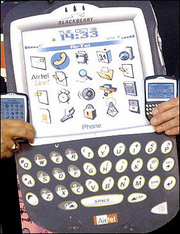 Despite RIM's September win in its long-running patent dispute with NTP, the company suffered a real setback last week when a judge refused to delay NTP's appeals court case:
The refusual to stay the case comes two months after a three-judge panel from the appeals court upheld most of the 2003 verdict, which has raised the seemingly remote possibility that RIM might be forced to stop selling BlackBerrys without a settlement.

But the August decision also identified certain errors during the trial, thereby reversing some of the infringement finding and asking the trial court to review whether those errors tainted the overall jury verdict.

NTP, based in Arlington, Va., has disputed the significance of that ruling as well as a series of recent "preliminary" rejections by the U.S. Patent and Trademark Office of the five patents RIM was found to have violated.

RIM has asserted that the patent office's actions hold enough weight to sway the court case, while NTP has dismissed them as a common formality in the agency's lengthy review process.

Settlement talks in the case broke down in June, several months after the companies appeared to reach an agreement that called for a $450 million payment to NTP.

RIM has indicated it will ask the trial court to enforce the settlement, while NTP has maintained that the companies failed to reach a definitive agreement over licensing terms for the patents in dispute.

"We're willing to settle the case, but not on terms that RIM is going to dictate," said Donald E. Stout, an attorney for NTP. "If the judge says `NTP you're right, there's no contract,' we will offer RIM a license with terms and conditions that we're willing to grant them a license under. And if they don't take that, we'll seek to enforce the injunction" fro RIM to stop selling BlackBerry mobile devices and service."

RIM, in a statement, said it "maintains that an injunction is inappropriate given the facts of the case and substantial doubts raised subsequent to trial as to the validity of the patents in question."
On the other hand, it would seem NTP's patents aren't that strong in the first place:
American Technology Research analyst Rob Sanderson said the latest ruling should not come as a surprise.

"What RIM was asking was to not move this case forward until the Supreme Court can decide. That request is almost never granted, so it's not unexpected," he said.

He said decisions for the lower court judge will include whether to reconfirm the injunction, whether to stay it pending review, and whether the earlier settlement was valid.

Sanderson said RIM may have helped its position by showing it was willing to settle, as courts prefer to see settlements in such cases.

He also noted that the U.S. Patent and Trademark Office recently finished reexamining eight NTP patents and issued initial rulings rejecting 100 percent of the claims.

Those rulings are not final and NTP has said it plans to see the full reexamination process through, which could take years. Some analysts have said that until that process is complete, the patents remain valid in the eyes of the court.
Still, the bigger they are the harder they fall and everybody wants to be king of the hill - with that, competitors were coming out of the woodwork with solutions at the recent CTIA wireless show:
Several mobile e-mail access companies this week will announce products and services designed to compete with Research In Motion Ltd.'s BlackBerry platform, but RIM continues to hold its own, with new carriers and device partnerships due by year's end.

At the CTIA Wireless IT & Entertainment show in San Francisco, Intellisync Corp. will introduce Intellisync Unified Messaging for Mobile Devices. "Intellisync has moved into the wireless enterprise space full force," said Bill Jones, a product manager at the San Jose, Calif., company. "This is really unified messaging."

A new version of the company's Intellisync Mobile Suite, the new platform makes e-mail, voice mail, text and instant messaging accessible on a single device screen. This includes the ability to view all the major IM networks, including AOL, Google, Jabber, ICQ, MSN Messenger and Yahoo IM, as well as corporate platforms such as Microsoft Live Communications and IBM Lotus Sametime.

The platform has new presence capabilities, officials said. An IM client allows others to see when a user is online, but Unified Messaging lets users specify how they would like to be contacted, setting their status to let colleagues know to use a text message rather than a voice call.

Unified Messaging also includes a data collection feature that lets a user see all the information relating to one contact—e-mail, voice mail and SMS (Short Message Service) messages—in a single view.

Supporting PalmSource Inc.'s Palm OS, Microsoft Corp.'s Windows Mobile and Symbian Ltd.'s Symbian OS, the Unified Messaging platform will be available in November, both as a private-label offering from carriers and directly from Intellisync's enterprise sales force, officials said.

Nokia's e-mail platform challenges Blackberry. Click here to read more.

Seven Networks Inc. will announce three new carrier partnerships in Europe and Asia, resulting in a total of 73 carriers offering the Redwood City, Calif., company's mobile e-mail platform.

Currently 140 carriers sell BlackBerry devices and services, and that number will soon exceed 200, said RIM officials in Waterloo, Ontario.

Visto Inc. at the show will announce support for 17 new devices on its Visto Mobile platform, meaning the platform supports 60 devices, said Visto officials in Redwood Shores, Calif.

But RIM has been slowly inching out of its BlackBerry device comfort zone via its BlackBerry Connect program, which enables non-RIM devices to work with the BlackBerry Enterprise Server. BlackBerry Connect has been slow to gain traction in the United States, but that seems to be changing.

By the end of the year, BlackBerry Connect support will be available in the United States on both the Nokia 9300 and on Palm Inc.'s Treo devices, according to industry sources. Cingular Wireless will be offering these BlackBerry-connected products, sources said. By November, T-Mobile USA Inc. and Verizon Wireless will be selling Windows Mobile devices that support BlackBerry Connect, sources said.

Competitors argue that BlackBerry Connect is not the same as building support for a device from the ground up. Still, it's not easy to pull customers away from the BlackBerry.

"It would take a lot for me to switch from RIM at this point," said Nicholas Gass, IT manager at Color Kinetics Inc., a digital lighting company in Boston. "Our infrastructure is established, both back and front end, and we've established a comfort level with all aspects of the BlackBerry product line."
All competitive comparisons aside, I have to say, it's hard not to admire RIM's founders for all the philathropic work they do which also serves a dual purpose role in original research to support economic development - and in so doing seem to be building Canada's future competitiveness in the process.
- Arik
Posted by Arik Johnson at October 24, 2005 03:00 AM