June 01, 2005
CI for Innovation Conference: Midrand South Africa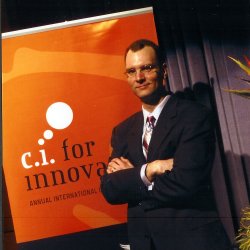 I've just yesterday returned home from a nine-day journey to the Gauteng of South Africa - Pretoria, Johannesburg and Midrand specifically - where I spoke and gave a portion of a workshop on competitive intelligence and its relationship with innovation, both in business processes as well as products.
My primary subject matter and theoretical modeling had to do with an explanation of Clayton Christensen's Disruptive Innovation Theory - let me know and I'll send you the slides. It was the CI for Innovation conference held May 26-27 in Midrand South Africa and was organized by CI consultants IBIS.
The turnout was really magnificent (well over 100, perhaps as many as 200) and it was extensively covered by the local media. As the chairman preparing myself to kick into high-gear organizing programming for next year's SCIP conference in Orlando, I think this outcome describes the value-proposition of such an event approach most appropriately - that is, from the point of view of the PRODUCT of CI, the value proposition of its applied contribution to innovation capabilities within an organization relative to its competitive markets and customer demand, rather than so single-mindedly explaining a PROCESS of how to "do" CI on the ground.
In this respect, there are three consistent demands that come up again and again over the past several years in evaluations of SCIP conferences that have guided me in organizing an event to meet those demands.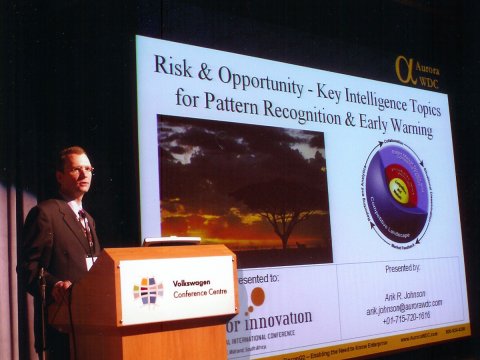 The consistent and ongoing pattern I observed in SCIP's conference evaluations, everybody focus was on: 1.) the return on investment metrics (usually impossible and often pointless), 2.) display and explanation of more and more sophisticated analytical tools (like handing a pistol to a five-year old and telling them to go figure out how to apply it to their daily life), and 3.) the ever-popular, case-study explaining the good, bad and ugly experiences of fellow, more seasoned, CI practitioners.
What's the consistent trend this suggests?
That the value proposition CI holds for their organizations is still elusive despite the intuitive sense that every successful organization "does CI" to some extent, formal or otherwise. The sense is that, despite evidence both anecdotal and empirical CI's role in organizations is still a "nice to have" overhead line item in the budget that can be cut at the whim of management. How do you solve a problem so persistent in a field so vital?
We explain that value proposition in terms one's own customers can understand. By focusing on "innovation", for example, a characteristic every firm seeks to foster, enjoy and ultimately profit from, CI's value proposition is clear. From a field-wide point of view then, that's why we reorganized the track structure for SCIP 2006 in Orlando around five simpler to understand areas of emphasis:
Fundamental Tools & Techniques - all the stuff you must do for CI success that is listed in your job description
Professional Effectiveness - all the stuff you must do for CI success that is NOT in the job description
Academic & Scholarly Research - focused on "the new", how to teach, research and legitemize the CI field from an educational and renewal perspective
Offensive Applications - innovatively growing an organization's market power, profitability and return for shareholders in new markets with new customers and new products - planning for strategic futures
Defensive Applications - managing risks to the status quo business by protecting, defending and penetrating existing markets to reach customers in a zero-sum fight against competitive forces - executing the tactical present
When we concentrate less on the process of CI and more on its outcomes and products, we get all of those things and more - we get to see them integrated together!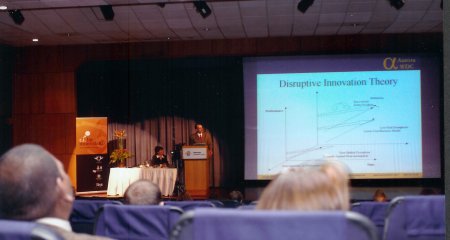 With that, here are a bunch of additional pictures from a weekend in the bushveldt of myself, alongside my good friend and fellow SCIP board of directors member (and next year's president-elect) Dr. Craig Fleisher, professor of management at the University of Windsor (Ontario), who keynoted the conference, plus conference organizers from IBIS, Mr. Mike Kuhn and Ms. Marie-Luce Muller and workshop leader (and photographer of these great pictures below) Albert Cruywagen (head of consultancy Quantum III) and his better half, Rioline. :-) I'll leave it to you to figure out who's whom.
And, lest I forget, Craig and I spent the following week until journeying home lecturing and visiting at various universities in and around the Jo'Burg area - UNISA, TUT, TUX, and Potch. Forgive me if I've forgotten anyone - but working with the faculty and students in higher education really reinforced what it means to be working together in a field as dynamic and interesting as Competitive Intelligence.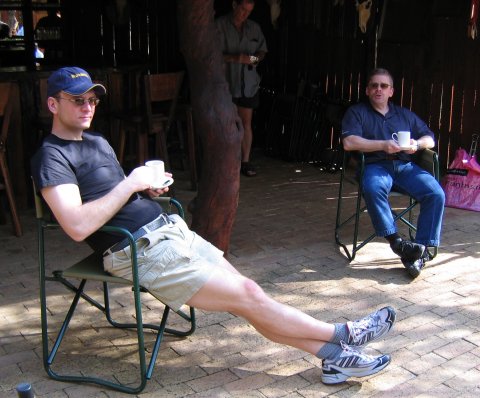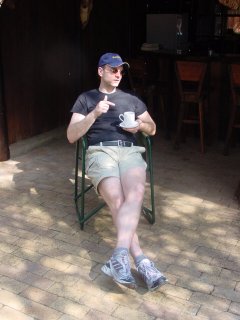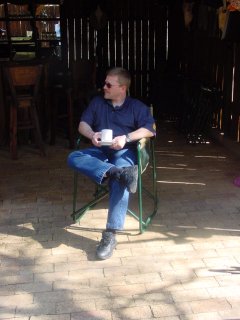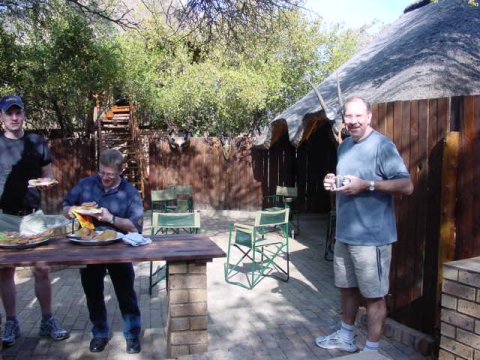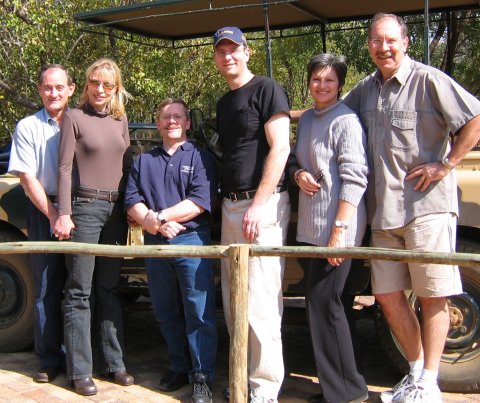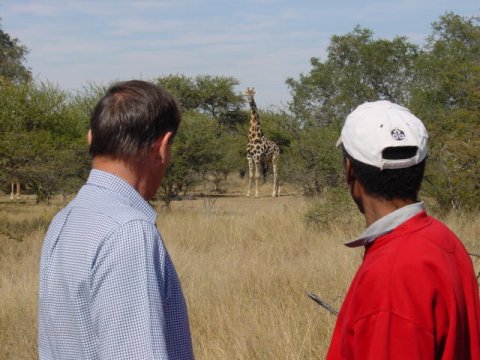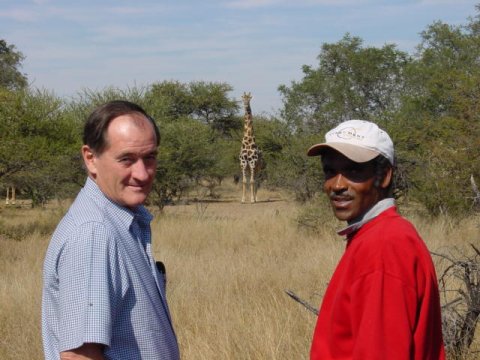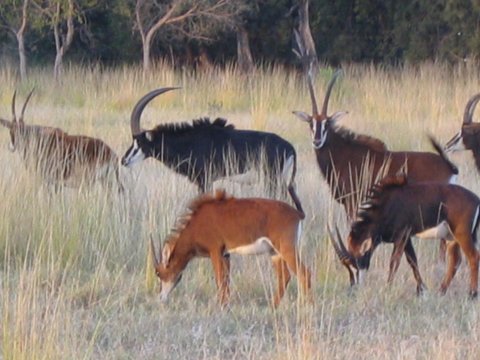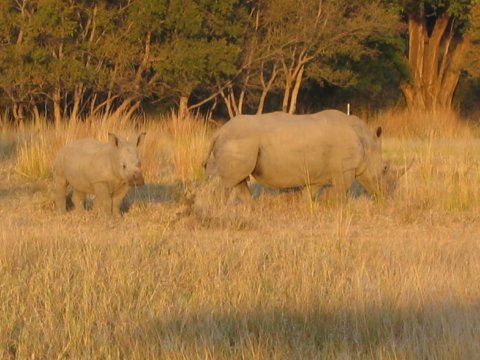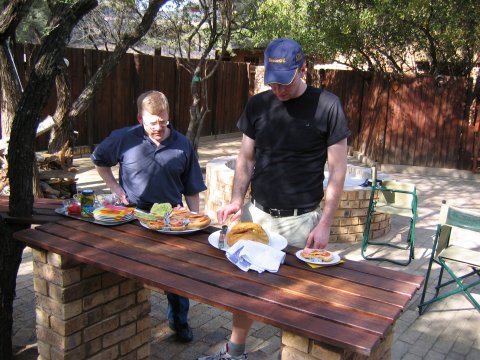 Sort of doesn't look like I know what I'm doing with that, eh? Craig seems to have a better idea, and as I recall, he managed to figure out how to cut into this thing. Don't tell me there's no value in a Ph.D!
My summary evaluation for the trip: a truly world-class event organized by IBIS and everyone who participated should be proud of the outcome. Thanks all - and I do hope you make this an annual get-together - despite any forthcoming invitation to present again in South Africa (fingers-crossed), I can't wait to return again for whatever reason!
Regardless of the content of any conference, near or far, it's always the friendships that serve to enrich our lives so much longer. It was an honor. Thank you again for having me.
Cheers 'til next time,
- Arik
Posted by Arik Johnson at June 1, 2005 02:40 PM