August 24, 2005
Google Talk: the VoIP/IM Extension and how it will Impact Skype, AOL, MSN & Yahoo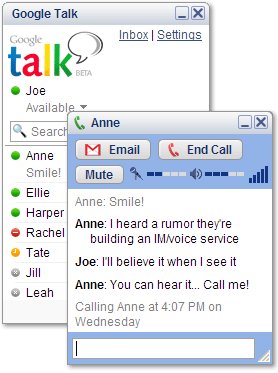 Back when I heard Google was raising $4 billion more dollars in a second offering I thought one of the targets might be erstwhile viral phenom Skype in order to get into the VoIP space in a big enough way to matter, but with the launch of Google's Talk beta this week, that original estimate appears mistaken. According to the Red Herring:
Granted, a comparison between a one-day-old product with few users and an industry leader with a cult-like following might seem a little odd. Skype, a Luxembourg-based Internet telephony company, has more than 40 million users and adds 155,000 new users every day.

However, when the challenger is Google, which has managed to establish a leadership role in the search sector, comparisons are inevitable.

"This isn't the final product," said Will Stofega, an analyst with IDC. "There are a lot of options for them as they develop this product further. The other way to think about this is that it's not just a chat product, it's a search engine doing a lot of fantastic things."

The end product could turn out to be a threat to Skype and other companies in the nascent VoIP market, including Vonage, which reportedly has plans to raise $600 million in an initial public offering. Google, which has about $3 billion in cash, is planning to raise another $4 billion through a secondary offering, but has been vague about how it plans to spend the cash.

In July, Google fielded 36.5 percent of all online searches, more than Yahoo or MSN, according to comScore Media Metrix. Its popularity in search has crossed over to other products, such as Google Earth, its mapping service, and Gmail, its email offering.


Analysts believe Google's brand image and financial resources could help it develop a powerful voice product, one that will easily attract users. But while Google may draw customers from other IM services, it isn't clear whether it can eat into Skype's market share.

"[Skype has] that same sort of techno-hipness that Google brings to the table," said Mr. Stofega. "And Skype has this Grateful Dead-type loyal developer community."

And those developers are working on independent applications—such as a video client—some of which are free while others are sold. They're hoping their applications and features can potentially draw a larger audience than Skype.

Kazaa Vets

Skype was created by Niklas Zennström and Janus Friis, the founders of Kazaa, a peer-to-peer audio exchange program, two years ago. It has rapidly moved beyond the computer-to-computer space with services such as Skype Out, which allows users to call traditional phone numbers anywhere.

The Google application is, on the other hand, still very limited, pointed out Scott Kessler, an Internet analyst with Standard & Poor's. And it's only available to Gmail users at this point.

"It's uncertain if you're going to see broad adoption," said Mr. Kessler. "Google Talk is exceedingly limited, from having to have a Gmail account, to having to have a computer, and having someone you're in touch with on the same network."

Then again, Google Talk is free, at least for now. And Mr. Kessler noted that if users asked for a capability to make calls to land-line phones, Google would probably try to provide it. In other words, down the road, Google Talk could eventually become a Skype-killer.

"They'll compete with each other, and Google might have an advantage, because their business model is not based on this offering," said In-Stat analyst Keith Nissen. "Skype is ultimately going to have to wonder, 'Where are we going to get money from?'"
Where could Google really have a competitive impact? By acting as the bridge to IM interoperability!
However, hopes for a consolidation of the marketplace around the Holy Grail of an IM standard which could convey truly disruptive innovation appears elusive:
As the new kid in the instant-messaging market, Google Inc. wants to be friends with everyone, but it's unlikely the seasoned players will let rivals get close to their subscribers.

In launching Google Talk , the Mountain View, Calif., search engine called for interoperability with the major networks built by America Online Inc., Microsoft Corp.'s MSN and Yahoo Inc.

"It's the Holy Grail," Joe Wilcox, analyst for JupiterResearch, said of interoperability.

It's unlikely, however, that the granddaddy of IM, AOL, will open up its base of 41.6 million subscribers to competitors. In comparison, Yahoo, which has the second largest network, has less than half the subscribers of AIM at 19.1 million, according to web metrics firm ComScore Networks. MSN has 14.1 million subscribers.

"AOL isn't letting anybody into their network, if they don't have to," JupiterResearch analyst David Card said. "There's no incentive for AOL to cooperate with anyone."

That incentive, however, could come in time, if IM vendors decide to take the service beyond the ability to have immediate text conversations with friends, family and colleagues. The portals have already added PC-to-PC voice calls and have extended IM to cellular phones. They could go much further in developing a communications platform that tightly integrates email, voicemail and IM, making it all accessible through multiple devices.

The heart of such a communications hub would be the contacts directory, Card said. Besides grouping people by their relationship with the IM subscriber, such as a family member, friend or colleague, the directory also establishes whether they are reachable. That could one day be expanded to add how the person wants to be reached, by PC, cellular phone or some other device.

Microsoft, according to Card, is very much focused on IM as a broader communications platform.

While the evolution of IM could be a potential battleground for the major portals, telecommunication companies and wireless carriers, it's more likely that partnerships will occur, and communication networks will open up, much like email is today, Card said.

"It makes everything more valuable, if the network is bigger," he said.

In the meantime, AOL, Yahoo and MSN are connecting IM to more services, such as online music, in order to build loyalty and help keep subscribers. Locking in customers would also be a strategy behind the building of a unified communications platform.

Google Talk, however, is notable in that Google has not linked its IM client to anything but its web mail service GMail. Therefore, it's difficult to see where Google is heading.

"It's very Spartan," Wilcox said of the new product.
Some commentators even wonder if it was such a smart move, to continue the long march toward a world where any context is up for advertising with Google looking over your shoulder:
When does Google start parsing peoples' IM conversations in order to present context-sensitive advertisements?

They're already parsing people's Gmail and generating "appropriate" ads based upon the message's content. How can Google possibly resist doing the same for instant messaging?

I'm sorry, but all this Google-looking-over-your-shoulder stuff gives me the creeps. It asks me to trust Google in ways I don't trust, well, anybody. Not that other IM or free-mail services couldn't also be watching content, it's just that Google is provably doing so. And it's reading people's mail merely to present more targeted (and thus more annoying) advertisements. Yech!

Sure, those ads give me free service and I've even been known to click on an "Ads by Google" link occasionally. But, I already pay to make TV and radio ads go away, I buy AccuWeather forecasts minus the ads and also give money to a few other services that offer an ad-free option. I might be willing to pay Google, as well.

Should Google offer a paid, ad-free service?

In deciding that question, you first have to decide whether Google is worth paying for. There was a time when Google was so much better than the other searches that I'd have said "yes." But, before there was Google, I might have said the same thing about Alta Vista.

Today, Google is still the best search engine, but the others, MSN especially, are catching up. Google's biggest challenge, however, is the continued decay of its results.

Google isn't as open as it once was in talking about how it determines placement of its results. I just know that as Google has made moves into several other businesses, its core search business seems sick and hasn't gotten better. People I know are leaving Google for other search engines.

Particularly troublesome are all the sites that show up at the top of Google's rankings that really aren't sites at all, except that they lead you to other search results, auction sites, or whatever. Google ought to be able to get rid of this Internet flotsam but so far has failed to do so.

But, let's imagine Google could find a way to dump this pseudo-content, I still wonder if Google's results haven't become too expansive. I can't prove this at all scientifically but my gut is that Google presents way too much content in its results, having the effect of diluting the "right" content that most people are looking for.
Still the technological underpinnings of Jabber make for some interesting possibilities:
Google's system relies on the XMPP, or Jabber, protocol. That means those favoring operating systems other than Windows or alternative IM clients, including Adium, iChat, GAIM, Psi, and Trillian, can connect to the Google Talk network and send IMs.

Because XMPP is an open protocol, developers have an opportunity to add value to the network. "If a game developer or a productivity developer decides they need to have instant messaging in their application," Harik says, "they can just program to the XMPP spec and they'll be able to let people connect to our network using their Gmail IDs but inside the developer's application."

Harik says that Google is committed to open standards and interoperability with other networks. He says support for Session Initiation Protocol (SIP) is likely and notes that Google is already working with EarthLink, which has its own Internet voice service.

According to Harik, talks with AOL, Skype, and Yahoo are already underway. And now that the secret is out, Microsoft can expect a call. "We will shortly start conversations with Microsoft," he says.

Google's goal is a unified, abuse-free messaging network. That's something many IM users will welcome, given the fragmented IM market. According to Internet statistics company comScore Networks, Inc., the leading IM applications were AOL's two offerings -- the subscribers-only AOL Instant Message and AIM standalone application -- along with Yahoo Messenger, and MSN Messenger Service with 41.6 million , 19.1 million, and 14.1 million active users respectively in July.

While Google's grand unification theory may find favor with users tired of IM's historic Balkanization, the company's hope for a network free of misuse seems naive. In July, IM security vendor Akonix Systems Inc. warned that the number of attacks against major IM networks had increased nearly 400% from the first quarter of 2005 to the second. And that's a trend that's likely to accelerate as the networks become better connected, offering malware writers a larger, more tempting pool of potential victims.

Eager to address privacy concerns, Google wants users to know that it does not track the content of IM chats or voice conversations. It does, however, track certain log information to maintain statistics on usage and to improve service.

And Google Talk doesn't display ads.
Still, there's a change of attitude about Google afoot in Silicon Valley and comparisons with Microsoft recently have people wondering about that "Don't be evil" part of the corporate bylaws:
Google's success has already spurred Microsoft to develop its own Internet search engine (a project code-named Underdog), but Google has legions of engineers banging away on a range of projects of its own that, if successful, could dislodge Microsoft from the pre-eminent spot it has enjoyed since the early 1980's.

Of course, Silicon Valley has had past pretenders to the throne. Netscape, which went public 10 years ago this month, and its Web browser, Navigator, were supposed to fell Microsoft - but it is Netscape that is no longer in business. And while Google is riding high, those closely following the company caution that it is hardly invincible; an inflated stock price, a desire to compete in too many sectors simultaneously or simple hubris might cause it to stumble, they say. Even Microsoft, after all, has had legal troubles.

Still, similarities between Google and Microsoft are evident to local entrepreneurs including Steven I. Lurie, who worked at Microsoft between 1993 and 1999 but now lives in San Francisco, and Joe Kraus, a founder of the 1990's search firm Excite.

"There's that same 'think big' attitude about markets and opportunities," said Mr. Lurie, who has visited the Google campus in Mountain View many times to see friends who work there. "Maybe you can call it arrogance, but there's that same sense that they can do anything and get into any area and dominate."

To place Google in context, Mr. Kraus offered a brief history lesson. In the 1990's, he said, I.B.M. was widely perceived in Silicon Valley as a "gentle giant" that was easy to partner with while Microsoft was perceived as an "extraordinarily fearsome, competitive company wanting to be in as many businesses as possible and with the engineering talent capable of implementing effectively anything."

Now, in the view of Mr. Kraus, "Microsoft is becoming I.B.M. and Google is becoming Microsoft." Mr. Kraus is the chief executive and a founder of JotSpot, a Silicon Valley start-up hoping to sell blogging and other self-publishing tools to corporations.

Just as Microsoft has been seen over the years as an aggressive, deep-pocketed competitor for talent, Internet start-ups in Silicon Valley complain that virtually every time they try to recruit a well-regarded computer programmer, that person is already contemplating an offer from Google.

"Google is doing more damage to innovation in the Valley right now than Microsoft ever did," said Reid Hoffman, the founder of two Internet ventures, including LinkedIn, a business networking Web site popular among Silicon Valley's digerati. "It's largely that they're hiring up so many talented people, and the fact they're working on so many different things. It's harder for start-ups to do interesting stuff right now."

Google, Mr. Hoffman said, has caused "across the board a 25 to 50 percent salary inflation for engineers in Silicon Valley" - or at least those in a position to weigh competing offers. A sought-after computer programmer can now expect to make more than $150,000 a year.

David C. Drummond, vice president for corporate development at Google, acknowledged that the company was "very competitive" in its pursuit of talent, but added: "We're very sensitive to how everybody is perceiving us. We think the Silicon Valley ecosystem is critical for Google's success."

Google is also making it more difficult for some start-ups to raise funds. In the second half of the 1990's, entrepreneurs frequently complained that the specter of Microsoft hung over their every conversation with venture capitalists. Today, they say the same about Google.

"When I meet with venture capitalists, or if I'm engaged in a conversation about going into partnership with someone, inevitably the question is, 'Why couldn't Google do what you're doing?' " said Craig Donato, the founder and chief executive of Oodle, a site for searching online classified listings more quickly.

"The answer is, 'They could, and they're probably thinking about it, but they can't do everything and do it well,' " Mr. Donato said. "Or at least I'm hoping they can't."
In the end, the only analysis remaining is that Google Talk lays the groundwork for Google to move beyond the Internet and onto the telephone network - while the service can handle only PC-to-PC voice calls, for the moment, if it added the functions of an Internet telephony company such as Skype, it could easily and quickly let Internet callers reach beyond computers to the PSTN. Indeed, in January, the company said it was after a strategic negotiator with experience in "identification, selection, and negotiation of dark-fiber contracts both in metropolitan areas and over long distances as part of the development of a global backbone network."
That leads me to only one possible conclusion: the move confirms that Google's competitive ambitions are even more ravenous than Microsoft's at a similar point in its corporate business development.
- Arik
Posted by Arik Johnson at August 24, 2005 07:48 AM