June 21, 2005
Gruner + Jahr Dump Inc. and Fast Company Magazines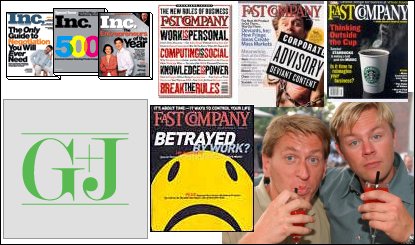 Five years ago Gruner + Jahr paid a total of $571 million for two magazines - Fast Company and Inc. Yesterday they sold them for $35M. Fantastic ROI of -93%. Brilliant. Here's the rundown:
Gruner + Jahr, a division of the German media conglomerate Bertelsmann, has reached an agreement to sell its two American business magazines, Inc. and Fast Company, for about $35 million, a fraction of what it paid for the publications, according to a person with knowledge of the deal. The tentative agreement with Joseph Mansueto, founder of an investment research company, was expected to be announced Tuesday, the person said. Gruner + Jahr bought both magazines five years ago for $550 million - Inc. from Bernard Goldhirsch for $200 million and Fast Company from Mortimer Zuckerman for $350 million. Last month, Gruner + Jahr sold its women's magazines - Family Circle, Parents, Child and Fitness - to Meredith Corp. for $350 million. With the sales, the company, troubled by a two-year-old circulation scandal, has effectively shed its American magazines; it retains ownership of a magazine-printing company. As part of the deal last month, if Gruner + Jahr had not been able to sell Inc. and Fast Company by June 30, the two titles would have gone to Meredith. Initially, about 20 buyers expressed interest in Inc. and Fast Company. The list was eventually narrowed to six: Mansueto, founder of the investment research concern Morningstar; The Economist; Time Inc.; American City Business Journal, owned by the Newhouse family; Alta Communications, a venture capital firm in Boston; and Abry Partners, an equity firm also in Boston that represents managers from Gruner + Jahr. As of Monday night, only Mansueto and The Economist were still in the hunt. The final decision, the person close to the sale said, hinged on Mansueto's desire to keep the magazines afloat, saving about 100 jobs. "It was very, very tight," this person said. "There were a number of small things that added up, but Mansueto will continue to publish Fast Company, and The Economist didn't plan to do that." Mansueto is chairman and chief executive of Morningstar, based in Chicago, which provides a broad array of financial information to individuals and professional investors through newsletters and online services. It was Mansueto as an individual, not the company, that bid for the two titles. He is also a part owner of Time Out Chicago. Gruner + Jahr drew unwanted publicity in 2003 during a trial between the company and Rosie O'Donnell, a former talk show host, over a failed venture.
TheDeal.com reported yesterday that the Economist actually had the higher bid:
While Morningstar founder Joe Mansueto has the inside track in the auction for Inc. and Fast Company magazines, the Economist Group is closing fast, with a deal hinging on a few critical factors that could bring victory to either party, according to a source close to the process.

None of the issues to be resolved are contractual, said the source. Rather, they are deal-specific. For example, Inc. and Fast Company operated as a department within a division (Gruner+Jahr USA) within a corporation (Bertelsmann AG). As such, neither magazine has audited financial results. The question for Mansueto and the Economist Group is: How comfortable do you feel doing a deal without them?

According to the source, the Economist Group actually submitted a richer offer than Mansueto, though neither bid is believed to be much higher than $40 million. But given the strict June 30 deadline, Mansueto's flexibility — he can simply write a check without seeking board approval — gives him an edge.

Mansueto's plan to continue publishing Fast Company, which was widely expected to be shuttered with a change of control, also works in his favor. So, too, does his relationship with auction manager AdMedia Partners Inc., with whom Mansueto worked on taking a 40% stake in Time Out Chicago a few years ago.

But the Economist Group did submit a higher offer than Mansueto and, according to the source, "really, really wants" Inc. and Fast Company. And unlike Mansueto's investment in Time Out Chicago, which is a passive one, re-establishing Inc. and Fast Company as viable consumer magazines will be a massive undertaking that will fall squarely on Mansueto's shoulders.

Best of luck with that... sounds like he'll need it.
- Arik
Posted by Arik Johnson at June 21, 2005 02:45 PM