December 26, 2003
Barbie vs. Bratz: Dolls Battle for Marketshare 'Neath the Christmas Tree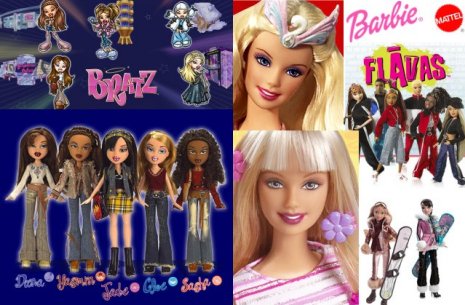 At one of my family Christmas get-togethers this holiday season, I noticed the presence of a new, funkier kind of doll for girls – the "Bratz" dolls and all their accompanying accoutrements. Intrigued, I did a bit of research and found out they're taking a king-sized bite out of a market ordinarily served by an older forebear, Barbie. Here's an excerpt from an article that sums up the phenomena:
For the first time in Ken Grow's 27 years as a toy retailer, Barbie lost ground to a rival fashion doll during the holiday season.

"The best doll this year . . . has been the Bratz doll," said Grow, owner of Gregory's Toys, an independent store in Encino. "Barbie has lost a lot of steam."

Mattel, the world's largest toy maker, is not accustomed to seeing its flagship fashion doll face such stiff competition. Its line of electronic learning toys also is faltering in what has become a tight market for toy producers.

"Those are two key categories for us," said Robert Eckert, chairman and chief executive of Mattel. "We had been gaining market share for the last several years, and in fact we lost market share in the first part of this year."

Sean McGowan, a toy industry analyst at Harris Nesbitt Gerard, estimated that Mattel's share of the fashion doll market has dropped from 75 percent to about 60 percent since 2000.

The toymaker has other problems. Along with increasing competition, Mattel has been weathering the fallout of 2002's dismal holiday season that led to a surplus of inventory and tighter spending by retailers. And it has seen its profit margins weaken amid pricing pressure from Wal-Mart and other discounters.

Eckert took over as CEO three years ago as Mattel struggled to overcome the ill-fated $3.5 billion acquisition of software maker Learning Co. As he focused on building the company's core brands like Barbie and Hot Wheels, Mattel stock bounced back and international sales increased.

But domestic sales lagged during the first three quarters of this year. "We did spend the first part of this year working off those inventories," Eckert said. "On top of that, our own product line was not doing particularly well in the first part of this year."

Through August, Bratz dolls topped the fashion doll market, according to the NPD Group, a marketing firm. The line produced by MGA Entertainment sports a sexy, urban look that embodies contemporary teen fashion.

"Right now, there's nothing but the Bratz dolls," said consumer Jennifer Joyce of La Crescenta, whose 10-year-old daughter used to collect Barbies but has moved on to Bratz.

Mattel has tried to keep Barbie edgy by marketing the My Scene Barbie, which sports a youthful, contemporary style, and the hip-hop-inspired Flava doll line.

Grow, the Encino toy-shop owner, said his customers haven't shown much interest in the My Scene dolls, which hit stores last year, or the Flava dolls, which debuted during the summer. Chain stores such as Wal-Mart and Target have discounted the dolls, trying to move them off the shelves.

In toys for boys, Mattel still leads the die-cast car market with its Hot Wheels and Matchbox brands. But some of its action figures haven't sold well, McGowan said.

Jill Krutick, an analyst with Citigroup Smith Barney, believes Mattel is well-positioned heading into 2004 because of ongoing product innovations.

The company is counting on a new race track called T-Wrecks that features a dinosaur that swallows and then spits out toy cars. To keep the interest of older kids who played with Barbies and Hot Wheels as children, Mattel has started marketing tie-in videos, clothing, cameras and electronic games.

Mattel's main competitor, Hasbro, has gained momentum in recent years with popular brands such as Transformers and Beyblade, a line of shooting toys.

In the past 12 months, Hasbro stock has gone from just under $12 to its current $21. Mattel's stock is hovering near $19 -- the same level it traded a year ago.


I found another couple of excerpts from BrandChannel.com, with a decidedly more positive opinion:
Mattel's popular icon has weathered many political, cultural and social storms since her introduction in 1959, but in the end she remains a plastic doll with a cheery smile and a perfect figure, a woman many little girls admire even when they realize that Barbie's proportions don't match reality. Billed as "a shapely teenage fashion model," Barbie made her first appearance at the American Toy Fair in New York City and soon became a hit. Her abrupt departure from traditional baby-faced dolls, however, drew criticism that has never stopped even though the nature of the complaints has changed.

Mattel did its best to satisfy both the critics and fans of Barbie, reshaping her face early on to give her a softer look and even trying in recent years to make her body more closely match that of an average woman. The doll's ubiquitous fashion accessories have also changed with the times, although Mattel made sure that there was nothing salacious about Barbie wearing a mini-skirt in the 60s or a tube top in the 80s, despite her popularity in a culture that has become increasingly open about sexuality.

The company also began rolling out Barbie's supporting cast in the early 60s, starting with Ken. (Mattel should abandon attempts to quell rumors that Ken is gay and Barbie is really in love with G.I. Joe; the speculation helps keep the brand in the public's mind.) Barbie's best friend Midge and her little sister Skipper followed soon after, and the subsequent 30-plus years have seen the addition of a black doll named Christie, an "artsy bohemian" named Chelsea, and others.

Mattel's response to feminists include Astronaut Barbie and Doctor Barbie, which debuted in 1986 and 1988, respectively. Day to Night Barbie (1985) reflected the yuppie lifestyle of the 80s, complete with an executive's outfit for Barbie's 9-to-5 office job and evening wear for a night on the town. She even came with a small calculator, perfect for crunching the numbers needed for financial reports.

In 1992, the Barbie Liberation Organization became upset when a Talking Barbie included the phrase "Math class is tough." The group switched her mechanisms with G.I. Joe's, creating homemade Barbies that yelled "Vengeance is mine!" While the incident was amusing, and it did successfully spread the group's message, it did little to harm the brand. In fact, Mattel's strategy in this area is to ignore the critics, as many of them will be unhappy with the doll no matter what the company does. If a mother is truly unhappy with the image Barbie projects, there's little Mattel can do that it hasn't done already.

But while the critics have done little damage to the brand, competitors continue to search for ways to cut into Barbie's market and mind-share. From cheap knock-offs sold in dollar stores to upstarts like MGA Entertainment's Bratz, which tries to cash in on current American youth culture with a brash image, Barbie faces many threats within the market niche. In response, Mattel created the "My Scene" line, which features similar fashions without the "in your face" attitude.

Brand consultancy Interbrand ranked Barbie 97th with a value of US$ 1.87 billion, down three percent from the year before, in its 2003 Best Global Brands report with BusinessWeek. While a loss of brand worth is never good, Mattel doesn't need to panic. It has spent more than three decades building a brand that includes not only toys but also videogames, board games, comic books, cartoons, and other spin-offs that constantly keep Barbie in the public eye.


So, good luck Barbie – this battle with the Bratz is one fight where it looks as if you'll need all the luck you can get.
- Arik
Posted by Arik Johnson at December 26, 2003 03:51 PM | TrackBack