August 27, 2005
The Long Tail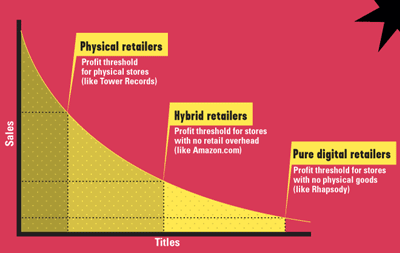 As I consider myself something of an "insider" on new and emerging trends (doesn't everybody?) I'm almost ashamed to admit that, after having been hearing for the better part of a year about "The Long Tail", Chris Anderson's essay in Wired Magazine (where he's editor-in-chief) from October 2004, I'm only NOW getting around to grasping the idea...
Anderson introduced the concept 'that demand for products not available in traditional bricks and mortar stores is potentially as big as for those that are. In other words, the potential aggregate size of the emerging "niche" market rivals that of the existing "hits" market.' Early next year, he's turning this into a book as well. Here's an excerpt from Anderson's blog that gives the rest of the story:
Traditional retail economics dictate that stores only stock the likely hits, because shelf space is expensive. But virtual retailers (from Amazon to iTunes) can stock everything, and the number of available niche products outnumber the hits by several orders of magnitude. Those millions of niches are the Long Tail, which had been largely neglected to date in favor of the Short Head of hits.

When consumers are offered infinite choice, the true shape of demand is revealed. And it turns out to be less hit-centric than we thought. People gravitate towards niches because the satisfy narrow interests better, and in one aspect of our life or another we all have some narrow interest (whether we think of it that way or not).

Our research project has attempted to quantify the Long Tail in three ways, comparing data from online and offline retailers in music, movies, and books.

1) What's the size of the Long Tail (defined as inventory typically not available offline)?
2) How does the availability of so many niche products change the shape of demand? Does it shift it away from hits?
3) What tools and techniques drive that shift, and which are most effective?

The Long Tail article (and the forthcoming book) is about the big-picture consequence of this: how our economy and culture is shifting from mass markets to million of niches. It chronicles the effect of the technologies that have made it easier for consumers to find and buy niche products, thanks to the "infinite shelf-space effect"--the new distribution mechanisms, from digital downloading to peer-to-peer markets, that break through the bottlenecks of broadcast and traditional bricks and mortar retail.
And, here are a couple of selected excerpts from the original essay to flesh out the idea for you:
Ask consumers, on the other hand, and they'll tell you that 99 cents is too high. It is, for starters, 99 cents more than Kazaa. But piracy aside, 99 cents violates our innate sense of economic justice: If it clearly costs less for a record label to deliver a song online, with no packaging, manufacturing, distribution, or shelf space overheads, why shouldn't the price be less, too?

Surprisingly enough, there's been little good economic analysis on what the right price for online music should be. The main reason for this is that pricing isn't set by the market today but by the record label demi-cartel. Record companies charge a wholesale price of around 65 cents per track, leaving little room for price experimentation by the retailers.

That wholesale price is set to roughly match the price of CDs, to avoid dreaded "channel conflict." The labels fear that if they price online music lower, their CD retailers (still the vast majority of the business) will revolt or, more likely, go out of business even more quickly than they already are. In either case, it would be a serious disruption of the status quo, which terrifies the already spooked record companies. No wonder they're doing price calculations with an eye on the downsides in their traditional CD business rather than the upside in their new online business.

But what if the record labels stopped playing defense? A brave new look at the economics of music would calculate what it really costs to simply put a song on an iTunes server and adjust pricing accordingly. The results are surprising.

Take away the unnecessary costs of the retail channel - CD manufacturing, distribution, and retail overheads. That leaves the costs of finding, making, and marketing music. Keep them as they are, to ensure that the people on the creative and label side of the business make as much as they currently do. For a popular album that sells 300,000 copies, the creative costs work out to about $7.50 per disc, or around 60 cents a track. Add to that the actual cost of delivering music online, which is mostly the cost of building and maintaining the online service rather than the negligible storage and bandwidth costs. Current price tag: around 17 cents a track. By this calculation, hit music is overpriced by 25 percent online - it should cost just 79 cents a track, reflecting the savings of digital delivery.

Putting channel conflict aside for the moment, if the incremental cost of making content that was originally produced for physical distribution available online is low, the price should be, too. Price according to digital costs, not physical ones.

All this good news for consumers doesn't have to hurt the industry. When you lower prices, people tend to buy more. Last year, Rhapsody did an experiment in elastic demand that suggested it could be a lot more. For a brief period, the service offered tracks at 99 cents, 79 cents, and 49 cents. Although the 49-cent tracks were only half the price of the 99-cent tracks, Rhapsody sold three times as many of them.

Since the record companies still charged 65 cents a track - and Rhapsody paid another 8 cents per track to the copyright-holding publishers - Rhapsody lost money on that experiment (but, as the old joke goes, made it up in volume). Yet much of the content on the Long Tail is older material that has already made back its money (or been written off for failing to do so): music from bands that had little record company investment and was thus cheap to make, or live recordings, remixes, and other material that came at low cost.

Such "misses" cost less to make available than hits, so why not charge even less for them? Imagine if prices declined the further you went down the Tail, with popularity (the market) effectively dictating pricing. All it would take is for the labels to lower the wholesale price for the vast majority of their content not in heavy rotation; even a two- or three-tiered pricing structure could work wonders. And because so much of that content is not available in record stores, the risk of channel conflict is greatly diminished. The lesson: Pull consumers down the tail with lower prices.

How low should the labels go? The answer comes by examining the psychology of the music consumer. The choice facing fans is not how many songs to buy from iTunes and Rhapsody, but how many songs to buy rather than download for free from Kazaa and other peer-to-peer networks. Intuitively, consumers know that free music is not really free: Aside from any legal risks, it's a time-consuming hassle to build a collection that way. Labeling is inconsistent, quality varies, and an estimated 30 percent of tracks are defective in one way or another. As Steve Jobs put it at the iTunes Music Store launch, you may save a little money downloading from Kazaa, but "you're working for under minimum wage." And what's true for music is doubly true for movies and games, where the quality of pirated products can be even more dismal, viruses are a risk, and downloads take so much longer.

So free has a cost: the psychological value of convenience. This is the "not worth it" moment where the wallet opens. The exact amount is an impossible calculus involving the bank balance of the average college student multiplied by their available free time. But imagine that for music, at least, it's around 20 cents a track. That, in effect, is the dividing line between the commercial world of the Long Tail and the underground. Both worlds will continue to exist in parallel, but it's crucial for Long Tail thinkers to exploit the opportunities between 20 and 99 cents to maximize their share. By offering fair pricing, ease of use, and consistent quality, you can compete with free.
Here's the conclusion from the same piece:
But Netflix, where 60 percent of rentals come from recommendations, and Amazon do this with collaborative filtering, which uses the browsing and purchasing patterns of users to guide those who follow them ("Customers who bought this also bought ..."). In each, the aim is the same: Use recommendations to drive demand down the Long Tail.

This is the difference between push and pull, between broadcast and personalized taste. Long Tail business can treat consumers as individuals, offering mass customization as an alternative to mass-market fare.

The advantages are spread widely. For the entertainment industry itself, recommendations are a remarkably efficient form of marketing, allowing smaller films and less-mainstream music to find an audience. For consumers, the improved signal-to-noise ratio that comes from following a good recommendation encourages exploration and can reawaken a passion for music and film, potentially creating a far larger entertainment market overall. (The average Netflix customer rents seven DVDs a month, three times the rate at brick-and-mortar stores.) And the cultural benefit of all of this is much more diversity, reversing the blanding effects of a century of distribution scarcity and ending the tyranny of the hit.

Such is the power of the Long Tail. Its time has come.
Time to put this one on my Amazon wish list...
- Arik
Posted by Arik Johnson at August 27, 2005 07:53 AM