December 23, 2003
Gift Cards & the Changing Face of Retail Revenues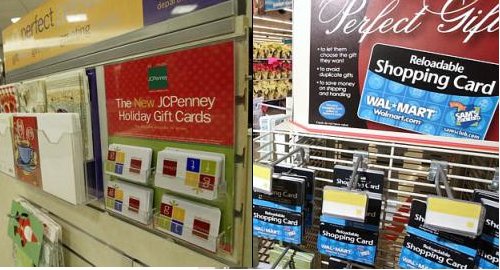 Gift cards are taking over 8 percent of holiday retail sales this year, and the stuff they'll be spent on will most likely be higher-margin, splurge goods. The trends affecting retail revenue are shifting profoundly past New Year's, as shoppers play chicken with retailers hoping for inventory reduction sales after Christmas, and post-holiday merchandising becomes more important as gift-carded consumers return to stores feeling flush with cash that needs to be spent – and those dollars will be spent on products they'd be less likely to buy for themselves if it was their own money being spent.
I found a few excerpts describing the trend much better than I from various sources below:
Retailers - like consumers - are hooked on gift cards, despite their potential to mess up earnings.

Perhaps no retailer knows that better than Wal-Mart, where heavy demand for holiday gift cards is slamming December sales, currently hovering at the low end of its 3% to 5% growth forecast.

The problem: Strong gains in gift-card sales can threaten the bottom line if consumers delay redeeming them. That's because gift-card purchases can't immediately be counted as sales. The purchase is logged as a liability until the card is swapped for merchandise.

So, to benefit the 2003 sales year, most retailers are depending on millions of holiday gift-card recipients to spend by the time their fiscal year ends Jan. 31.

Still, retailers say that gift cards foster customer loyalty, help win new customers and often coax consumers into spending more than the value on the card. They are so popular this holiday shopping season that sales are expected to hit $17.2 billion, or 8% of all sales, according to the National Retail Federation.

"There is only a 5% incidence where someone doesn't redeem a gift card within the first 30 days of receiving it, and that gap has been closing over the years," says Mike Brewer of Stored Value Systems, which processes gift-card transactions.

Still, retailers that wrap up the year in December have a greater urgency for gift-card redemption.

Major retailers closing books in December:

- Sears: The department store operator sells 20% to 30% of gift cards during the holiday season and redeems a "significant" amount shortly after Christmas. "We look at it as a great way to merchandise our brand. It's a way to give someone everything from tires to ties to dressers to dresses," says Bill Kiss, general manager of Sears Promotions. Sears eliminated expiration dates on gift cards Dec. 17. Previously, its gift cards expired two years from the date of purchase.

- Office Depot: The office products retailer sells about 60% of holiday gift cards during the last two weeks of the season, and value amounts this year are "double" last year's sales.

- A.C. Moore Arts & Crafts: The chain sells a "substantial" amount of gift cards during the holiday but isn't bothered by redemption after Dec. 31. "The rationale for gift cards is customer loyalty," says CFO Les Gordon.

Gift-card redemption rates are highest Dec. 26 and soon after while many consumers still have a few days off work and continue to hunt bargains.

The seven family members and co-workers for whom Chinissa Sumpter bought gift cards may be among them. "They give the recipient an opportunity to buy what they want," says Sumpter of Detroit, who spent $40 on each.

Talbots expects gift-certificate holders at the kickoff of its semiannual sale Dec. 26. "About one-third of gift certificates sold during the year are redeemed between Christmas through January," says Ed Larsen, CFO at Talbots.

Retailers don't benefit when cards aren't redeemed. Regulations, called escheat laws, vary from state to state. Some call for retailers to give any remaining balance or abandoned amounts to the state as unclaimed property after a lapse of time, according to Pillsbury Winthrop, a law firm specializing in laws relating to gift cards.

But most major retailers avoid the rule by eliminating expiration dates on cards or giving the unused portion back to customers as a store credit or, sometimes, cash.


Still, frustration abounds over restrictive policies some retailers have in place causing many consumers to give up the gift concept already:
Like more and more holiday shoppers, Juliette Coulter of Dallas thinks the right gift for many friends and family members is plastic and fits in a wallet. She's spending $300 in all this season on gift cards from Target, Old Navy, Starbucks and other stores. It means no worrying, for example, about size or style for a pair of nephews age 9 and 14. "They have very specific tastes, and I don't want to get them the wrong thing," she said. "I want them to think I'm the cool aunt."

Gift cards are hotter than ever this season, with merchants expected to sell more than $17 billion worth during the holidays, or 8 percent of all business, according to the National Retail Federation.. It actually helps them extend the selling season, as shoppers flood the stores after the holidays to redeem their cards and, the stores hope, spend a little more.

Yet as the cards become more familiar, many recipients are grumbling about some headaches associated with them - fees that can erode their value if they are not used quickly, problems getting replacements if they are stolen or lost, what to do with that last few dollars or even cents of credit.

Aware of the issues, and fearful of losing what has become a key piece of business, some store chains are revising their policies or doing more to educate customers about how to get the most out of gift cards.

Coulter said she doesn't worry about card fees as her recipients use them quickly - which is often the only way to make sure you get full value. Dennis Fish, of Atlanta, learned that the hard way.

Fish purchased a $120 gift certificate from a spa for himself and his wife last year. They waited just over a year to use it - and were hit with a 20 percent "reactivation" charge. The card had a one-year expiration period.

"Never will I buy one again until I know the ins and outs of the policies," he said.

He complained, and got the charge lifted. But he's buying just two cards this year, compared to 10 last year.

Brad Ferris of Washington said the cards "drive me nuts."

"If you get a $300 card and you only purchase $250, you end up forking out more money to these stores because they don't refund the cash you don't spend," he said. "I always receive these cards, and they end up being more of an expense than a gift."

Besides reactiviation fees, some store cards carry a kind of reverse-interest that's charged over time. Bank-issued cards often have an initial charge.

"Consumers are going to find out that their gift cards are not worth as much as they thought they were worth," said Gail Hillebrand, senior attorney at consumer advocacy group Consumers Union of U.S.

Her group supported legislation passed in California eliminating virtually all gift card and gift certificate fees effective January 2004. That state already has a law that keep cards from having expiration dates. In New Hampshire, cards that have a $99 value or less can be used anytime, while in Massachusetts, any gift card is now valid for up to 7 years.

Retailers say reactivation and other fees help cover costs to maintain the systems that track card credits, and are fair because the costs thus are charged only to consumers who delay in using them. There can be accounting costs, since stores don't record gift card sales on their final books until the cards are redeemed, according to the National Retail Federation.

But they are sensitive to the growing chorus of complaints. Several major chains, including Sears, Roebuck and Co., Barnes & Noble Inc. and J.C. Penney Co. Inc. have eliminated fees in time for the holiday season. Back in February, 18 national retailers - including Bloomingdale's, Toys "R" Us and Target Corp. - agreed to replace customers' lost, stolen or damaged gift cards.

Still, there are plenty of companies that have charges or have some sort of restrictions. A sampling:

- Wal-Mart Stores Inc. charges $1 fee per month after 24 consecutive months of inactivity.

- Barnes & Noble Inc. will replace damaged cards, but not stolen or lost cards. In October, the retailer eliminated its $1.50 monthly fee that it charged after 12 months of inactivity.

- American Express's prepaid card charges $2 a month after 12 consecutive months of nonuse. There's a $3.95 initial fee, if purchased online at americanexpress.com, or a $7.95 charge - if purchased by phone. When purchased in person, fees vary from $3.95 to $9.95.

- Simon Properties-Visa gift card program - which is expected to be Visa's largest gift card program this year, has an initial fee of $1.50, and has a service fee of $2.50 per month beginning with the seventh month. The initial fee is still low compared to Visa's other members, which can go as high as $7.

Lucy Lazarony, a researcher at Bankrate.com, recently studied the gift card policies of major banks and retailers. For gift cards ordered online, she said, Lazarony many retailers charge a shipping and handling fee ranging from $1.95 to $8.95 for standard shipping.

Visa USA said that consumers are seeing the value of their gift cards because it has "universal acceptance" - they can be purchased at any store that accepts Visa - and they can be replaced if stolen or lost. But company officials acknowledge that consumers could use more education about the policies.

"We are working with our members to adequately overdislose information" to consumers, Kenny Thomas, a company spokesman. That includes spelling out policies right on the back of the card.

Still, the cards' popularity is expected to keep growing. C. Britt Beemer, chairman of America's Research Group, based in Charleston, S.C., said gift cards have become the "grand slam" of the 2003 holiday season.

According to Bain & Co., card sales for 2003 will total anywhere between $42 billion to $45 billion in sales this year, up from $36 billion to $38 billion in 2002. Exact figures are hard to determine.

Stores like gift cards because they cut down on returns - and about two-thirds of recipients spend more than the value of the cards, according to Rob Markey, a director at Bain.

They also increase sales of regular-price items, because shoppers using a card are less interested in getting a discount.

Michael Brown, a retail operations specialist at Kurt Salmon Associates, estimated that about 10 to 15 percent of the value of the cards are never used.

Hillebrand, at Consumers Union, knows how gift-givers can prevent that from happening.

"Write a check," she advised.


Here, here.
- Arik
Posted by Arik Johnson at December 23, 2003 03:48 PM | TrackBack