January 02, 2004
MTV vs. Fuse: Music TV Competitors Spar Over Video Exclusivity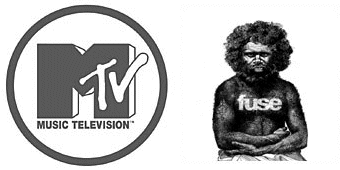 Here's a story I've been watching for a few months now, ever since Fuse launched last May as the first serious challenger to MTV. One reason I like Fuse is their creative advertising, but the real appeal is that they play actual videos at a time when MTV is increasingly filled with cheap reality-TV content.
As for their promo strategy, Fuse as a startup music-television competitor to Viacom's MTV needed to build viewership on a small budget, so it tried a "Save a music video campaign" highlighted with Sally Struthers parodying her well-known "Save the Children" campaign. Pasted to a Viacom-owned billboard opposite MTV's headquarters, the billboard got big free-media attention-span for its bold challenge to MTV.
Meanwhile, MTV has recognized the threat and has started fighting back. I noticed this article from Rolling Stone about the turf war going on between the competitors:
When the upstart music channel Fuse officially launched last spring, MTV general manager David Cohn told Rolling Stone the new competitor didn't scare him. "That 'Where are the music videos on MTV?' thing?" Cohn said. "I'm not sure anybody's that fussed about it." But in late December, industry sources were complaining that MTV had started turning up the heat on its competition, enforcing exclusivity contracts that keep some artists' videos off Fuse.

"We pay millions of dollars to the labels to support the production of videos," says MTV spokeswoman Jeannie Kedas. "We take a handful of exclusives a year, and it gives major exposure to the artist." MTV reaches 87 million households; Fuse reaches 34 million. Though Fuse is the smaller fish, one prominent manager points out that artists value the channel's commitment to playing videos: "It's more like MTV used to be. It's cooler and more irreverent."

MTV exclusives are nothing new. But before Fuse, the twenty-two-year-old video network had no real competition. Label and management insiders say that, in recent months, MTV has become pushier about its demands. "They're using our bands to get in a war among themselves," says one label source. Bands such as P.O.D. and Puddle of Mudd got around the rules by filming live performances at Fuse's studios.

MTV's Kedas says the network rarely asks for exclusive rights on a video. "We're not exercising those rights any more aggressively because of Fuse," she says. Kedas argues that since Fuse doesn't pay the labels the millions of dollars in licensing fees that MTV does, it's only fair that MTV should occasionally demand a blockbuster video for its exclusive use. In the past year, Kedas says, MTV has taken fewer than a dozen exclusives, including Radiohead's "There There," Beyonce's "Crazy in Love," Blink-182's "Feeling This," Limp Bizkit's "Eat You Alive" and Linkin Park's "Numb."

Fuse president Marc Juris downplays the turf war with MTV, saying there are plenty of videos to go around: "It's not about owning content - it's about owning a voice which makes that content take on greater meaning to our audience. Competition is everywhere. But if I was to think it's only MTV I have to worry about, I'd be thinking pretty narrowly."


The New York Post had an interesting article on the subject too:
MTV is taking notice of upstart rival music channel Fuse.

Fuse, a 24-hour music video channel owned by Cablevision's Rainbow Media, has slowly been garnering buzz within the music industry this year for doing what critics say MTV has strayed from: airing a constant flow of music videos.

"It's a refreshing change of pace that you have this new channel that will offer a healthy dose of competition to the world of music videos," said one music industry executive.

But while Fuse is still an ant compared with its giant rival, MTV has lately been playing a behind-the-scenes game of hardball - using its clout to steer artists away from Fuse, according to music industry sources.

For one thing, MTV has long had deals with music labels that allow the network to pay a fee to lock up exclusivity on videos to keep them off the airwaves on other networks. MTV, sources say, has lately been exercising its exclusivity rights more often.

For example, MTV has locked up exclusivity on many popular videos recently - including ones by Linkin Park, Puddle of Mudd, P.O.D. and Beyoncé, sources say. While record labels collect a fee for this, music industry execs say that not being able to air the videos simultaneously on Fuse hurts the labels' ability to market their artists.

A spokesperson for MTV said the network decides on exclusivity "based on audience tastes and wants, not based on what another network may or may not be doing."

Marc Juris, president of Fuse, told The Post, "I'm from the Bronx, and this feels like a good old-fashioned turf war. We feel like 50 Cent - been shot nine times but we're still singing."

But the battle extends beyond videos. Just last week, Linkin Park, a band signed to Warner Bros. Records, bowed out of a deal with Fuse that would have had the network sponsor its upcoming tour after MTV intervened, according to music industry sources.

Sources close to the situation say that Linkin Park first offered the sponsorship to MTV, but the network declined. The band then began negotiating with Fuse, and a deal was close at hand before MTV stepped in and made it known that such a sponsorship with Fuse would hurt the band's relationship with MTV, according to sources.

An MTV spokesperson denied this, saying, "We did not ask any band or artist to decline tour sponsorships."

MTV has also reacted negatively toward artists who have appeared on Fuse shows to promote new albums before they appeared on MTV, sources say.

For example, MTV was outraged last month when Blink-182 went on Fuse first, sources say.

Fuse, formerly called "muchmusic usa", was relaunched under the new name in May.

It is on the air in 34 million homes in the country, and has deals with DirecTV, EchoStar and most major cable operators except Comcast, the nation's largest. It is currently in negotiations with Comcast about a carriage agreement.

MTV is owned by media giant Viacom, which also owns music channel VH1 and Black Entertainment Television, which also airs music videos.




And, finally, the Miami Herald had a somewhat deeper LA Times feed posted on the subject as well:
MTV built itself into an entertainment powerhouse by keeping an ear tuned to pop-music trends. The channel probably doesn't like what it's hearing now: the footsteps of a competitor.

Since its debut seven months ago, Fuse has been steadily picking up music video viewers. Viacom, which owns MTV, is playing hardball in response, industry sources say, exercising a provision in contracts with record labels that requires them to provide music videos for Viacom's exclusive use.

Executives at the five major record conglomerates won't talk publicly about the move. Privately, they're griping about what they say is MTV's bid to strong-arm them in order to keep its near-monopoly status in the music TV business.

The labels agreed to the exclusivity provisions in contracts signed years ago. But executives say those deals were signed back when MTV had little serious competition.

MTV has claimed exclusive rights to some eagerly awaited clips, including Radiohead's "There There," Beyoncé Knowles' "Crazy in Love," Limp Bizkit's "Eat You Alive," Puddle of Mudd's "Away From Me," Blink-182's "Feeling This," and Linkin Park's "Numb."

Under the labels' contracts, the Viacom network can air a video exclusively for as long as six months, sources say.

MTV's position as the dominant force in music television has never before been seriously challenged. In 1994, major record companies launched plans to start their own 24-hour music channel but scrapped the idea in the face of a Justice Department antitrust inquiry.

Right now, Fuse's reach is limited. It is available through cable and satellite systems in about 34 million households, while MTV2 is in 50 million and MTV is in more than 86 million.

But Fuse has been winning points among music executives and media analysts.

"Fuse has been very successful in establishing a relevant brand in a very short period of time," said Jack Myers, a media analyst and publisher of the Jack Myers Report. "MTV is in a position of being forced to pay attention."

The upstart channel is emerging as an MTV rival at a time when the music industry is suffering from a three-year slide in CD sales.

"Given the current crisis in the music industry, it's a shame that anyone would seek to prevent the work of today's artists from getting to as many people as possible," said Marc Juris, president of Fuse Networks, which is owned by Cablevision Systems Corp.

Relations between MTV and the labels recently have been tense. Music executives say they are tired of footing bills that seem to benefit MTV as the companies' fortunes decline.

For instance, a label pays to produce a music video and to cover a wide array of other expenses, including the costs of an artist's travel to MTV events, stage sets at the events and other fees whenever the artist appears on the channel. MTV pays the label's licensing fees, about $5 million a year for the bigger companies, but music executives say that doesn't come close to covering their expenses.

For MTV, the arrangement has been rewarding: By keeping its programming costs low, it has generated some of the biggest profit margins in the media world - an estimated 56 percent this year on sales of $929 million, according to Kagan World Media.

Lately, some labels have refused to pay the costs of some high-profile acts' appearances; labels also have been offsetting their costs by cutting product placement deals with companies such as General Motors Corp. and Verizon Communications Inc. without MTV's approval.

Whether there will be changes in the channel's deals with the labels is unclear. Viacom's MTV division has a contract with every major record conglomerate that guarantees the channel exclusive permission to air for a certain period of time a percentage of the music videos a company produces each year. MTV can claim exclusive rights to as much as 20 percent of a label's videos in some instances, sources said. In return, they said, MTV offers the record company free advertising spots.

MTV executives declined to discuss details of the channel's contracts. A spokeswoman said MTV decides when to claim exclusive rights to a video based on an assessment of audience taste, "not what any other network may or may not be doing." For popular acts, she said, "it only makes sense for us to want to brand with the artist."

Cablevision started Fuse in May, revamping a lackluster channel called MuchMusic USA that Cablevision had owned since 2000.

"Whether anybody wants to admit it or not, the Fuse is becoming a player," said one artist representative who spoke on condition of anonymity. MTV "is seeing a spark, and they want to keep them from playing."

Parent Viacom is supposedly insisting on enforcing the little known provision, which requires major labels to give MTV exclusive access to music videos. While executives at the five major recording companies are being pretty tight-lipped about it, privately they're admitting that they did sign the contracts, back when MTV had no serious competition.

The music industry has been beaten-up by the three-year slump in CD sales and Mark Juris, president of Fuse Networks, said: "Given the current crisis... it's a shame anyone would seek to prevent the work of today's artists from getting to as many people as possible."


Branding Fuse as something more than anti-MTV didn't mean just shooting arrows over the wall of the leading brand. It led the channel to create a TV identity to beat MTV's already clichéd rebellion in favor of some really way-out imagery. New York's TeamHeavy, the channel's creative department, decided to skip over the traditional logo-oriented branding strategy. Fuse's logo changes design from one promo spot to the next and takes on pretty interesting forms, with "the four letter word they don't want you to hear" appearing in a broad array of formats.
Contrasting MTV's traditional logo, the "Shave the Children" spot graphic above combines electric razors shaving the Fuse name into the chest-hair of an ape-man drawn as a B&W textbook-style illustration. But without having watched Fuse, it's impossible to say whether or not it delivers on its music vid promises, so check it out.
- Arik
Posted by Arik Johnson at January 2, 2004 12:38 PM | TrackBack