January 01, 2004
Fortune 100 Best Companies to Work For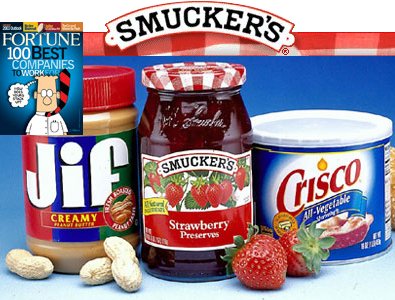 Happy New Year!
As we kick off another new year, I call today on Fortune to give us their annual list of the "100 Best Companies to Work for" – and topping the list is J.M. Smucker:
Jam and jelly maker J.M. Smucker & Co. made the top spot in Fortune magazine's 2004 ranking of "Best Companies to Work For," an annual list released Monday. It's the first time a manufacturer has made No. 1 on the top 100 list. Last year, Smucker ranked No. 8.

Run by two brothers, the Orrville, Ohio-based company is a "throwback to a simpler time," according to Fortune. Employees said the company treats them like family, with a corporate culture based on objectives including: "Listen with your full attention, look for the good in others, have a sense of humor, and say thank you for a job well done."

Legal services firm Alston & Bird took the second spot, inching up from No. 3 last year. Among the benefits its employees said they appreciated were maternity leave of up to three months at full salary for mothers - and fathers if they're primary caregivers. Alston & Bird also provides an on-site child-care center that costs an average of $500 a month.

Rounding out the top 5 "Best Compaies" were, in order, home decor retailer Container Store, financial services firm Edward Jones, and commercial bank Republic Bancorp.

Republic managed to climb to No. 5 from last year's No. 17 spot, after awarding 300 employees trips to Aruba, Cancun, or the Dominican Republic last year. Edward Jones, falling to No. 4 from last year's top spot, added 1,500 employees in the past year and hasn't had a single layoff in 34 years, according to the report.

To arrive at its list of best companies to work for, Fortune randomly selected 46,526 employees from 304 candidate companies to fill out a survey created by the Great Place to Work Institute. Each candidate company also filled out a questionnaire detailing its people policies, practices, and philosophies. The employee portion accounted for two-thirds of the total score, according to Fortune's report.

Software maker Adobe, engineering and construction company TDIndustries, software maker SAS Institute, family-owned supermarket Wegmans Food Markets, and chipmaker Xilinx made the bottom half of the top 10 companies, in that order.


Check out the full list at Fortune.com, then go get a job at one.
- Arik
Posted by Arik Johnson at January 1, 2004 12:38 PM | TrackBack