December 30, 2003
FedEx Acquiring Kinkoís to Compete with UPS and Mail Boxes Etc Stores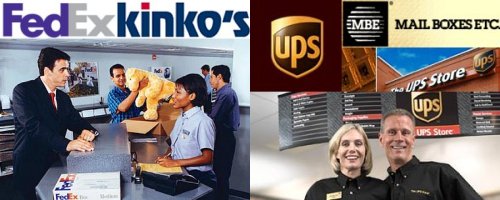 Just when you thought the holiday madness was over, FedEx announced today itís paying $2.4 billion in cash to buy privately held business services provider Kinko's in a deal set to close in the first quarter of 2004. Of course, theyíre a little late the party after the 2001 acquisition by top competitor UPS of Mail Boxes Etc. franchise operations, successfully rebranded as UPS Stores just this past April. But, itís a step in the right direction, if FedEx hopes to keep a part of the retail interface to foot-traffic looking to ship from a local storefront. In the Motley Fool excerpt below, some of the logic (and competitive desperation) of the deal gets explained:
Soon, FedEx will offer its shipping options in 1,200 Kinko's stores (it currently has outlets in 134 Kinko's stores through a pre-existing agreement). The acquisition will help FedEx grab shipping business from the small- and medium-sized business market as well as from consumers who have fulfilled their other document needs in the stores.

Kinko's has been branching out from its humble beginnings as a copy center. It's no longer just about producing brochures, manuals, and business cards. Now, it offers its business customers some pretty fancy solutions in many of its locations, including Wi-Fi Internet hot spots and videoconferencing. For 2003, Kinko's expects to report $2 billion in revenues (though the acquisition won't add to FedEx's earnings until fiscal 2005).

With the high price tag comes the expanded retail presence and high-profile name brand that seems sure to usher in some built-in customers for FedEx. Over the last several years, the delivery company has suffered from a sluggish shipping business as the economy took a nosedive, and from heated competition from rival UPS and even the U.S. Postal Service.

Earlier this month, Fool LouAnn Lofton reported on FedEx's lackluster second quarter. A higher-than-expected number of employees jumped at the chance to take FedEx up on its early retirement package, resulting in a charge.

While the Kinko's acquisition might be a good idea, it's not original. In 2001, UPS bought Mail Boxes Etc. for about $185 million, a franchise that currently has 4,000 locations. With the possibility that UPS is indeed winning the market-share battle, one might wonder what took FedEx so long to tap into this market. However, by capitalizing on Kinko's well-known brand and non-franchise stores, the deal could deliver some excitement to FedEx shareholders.


What took so long indeed?! And why wait until after Christmas? Time to absorb and assimilate, I imagine. I looked back at what UPS had to say about the MBE deal, following Aprilís successful rebranding:
"The UPS Store is a significant step in UPS's strategy to strengthen its brand presence and expand access to our services for small businesses and individual consumers throughout the U.S.," said Rocky Romanella, vice president of UPS retail services. "The UPS Store extends competitive UPS pricing along with the outstanding customer service that has become synonymous with MBE franchisees over the past 20 years."

"This is an unrivaled combination of convenience, reliability and price," added Mathis. "We feel The UPS Store will transform the retail shipping industry."

"The franchising sector has never seen re-branding on this scale," said Don DeBolt, president of the International Franchise Association. "To see one of the world's largest companies working alongside a leading franchiser is historic on its own."

There are no plans to change the trade name of MBE's international locations. Currently, MBE has more than 1,000 units outside the U.S.

The UPS Store and Mail Boxes Etc. together comprise the world's largest franchise network of retail shipping, postal and business service centers, with more than 4,000 locations around the world. Mail Boxes Etc., Inc., a UPS company, franchises The UPS Store and MBE retail locations. In the United States, The UPS Store and MBE locations are independently owned and operated by licensed franchisees of Mail Boxes Etc., Inc. Outside the United States, locations are owned and operated by MBE master licensees or their franchisees.


So, what the UPS deal a better bet than FedExí Kinkoís move? It was certainly cheaper, even if they donít have the asset base, due to the franchising model. This should be interesting to see who grows revenue more quicklyÖ and retail outlets!
- Arik
Posted by Arik Johnson at December 30, 2003 03:55 PM | TrackBack