December 29, 2003
Toilet Paper Wars: Charmin vs. Quilted Northern vs. Cottonelle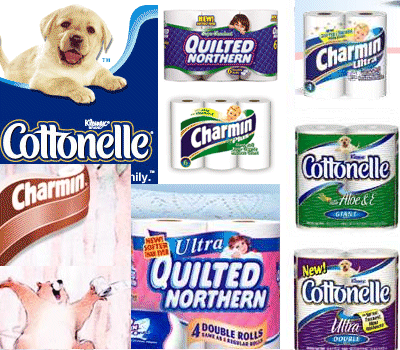 Going "head-to-head" (get it?) in the bathroom tissue business, we've got P&G versus Kimberly-Clark versus Georgia-Pacific in a new promotional war of international proportions, with P&G's Charmin taking it up a notch. This isn't Mr. Whipple's TP business, as the New York Times excerpt that follows describes:
In the $4.7 billion business that is bathroom tissue, there is not a whole lot that separates one toilet paper from another. Since toilet paper is a commodity we all must buy - and do so, often without much brand loyalty - companies go to unusual lengths to get their messages across.

Procter & Gamble, to promote its Charmin brand, has begun showing up at state fairs to encourage people to use special "Charminized" rest rooms, which are not only clean but stocked with P.& G. products. Outside the restrooms, the Charmin bear dances and mugs to entertain the crowd.

And there's Georgia-Pacific, which this month weaved its Quilted Northern bathroom tissue into the regular programming of "The View," the morning gab fest on ABC.

Next up, on Jan. 5, Georgia-Pacific will introduce a $10 million campaign, created by DDB Worldwide in New York for Angel Soft tissue, including commercials introducing David and Larry, "bathroom angels" who perform such good deeds as restocking depleted toilet paper rolls. The company is the largest bathroom tissue marketer in the country, with a 38.9 percent volume share, according to Nielsen data provided by Georgia-Pacific.

But Quilted Northern - the company's biggest brand, with about a 21.5 percent share of the total market - still trails the category leader, Charmin, by about three percentage points. Cottonelle from Kimberly-Clark has about a 12.7 percent share.

The commonplace nature of toilet paper results in widespread discounting and promotional activity among manufacturers and retailers. That tends to erode brand image in a category where the last really notable advertising icon was Charmin's Mr. Whipple, who last appeared regularly in the 1980's.

"It's one of those categories where retailers will football on price, so it's been very difficult for true product benefits - making a better toilet paper - to translate into higher prices," said Paul Crnkovich, partner at Cannondale Associates, of Evanston, Ill. "The ultimate definition of brand equity is how much more you'll spend for Product A than Product B."

After P.& G. retired Mr. Whipple, the company spent years searching for an effective strategy that would differentiate Charmin. The company even brought Mr. Whipple out of retirement in 1999, but that did not last.

Several years ago, P.& G.'s longtime agency, D'Arcy Masius Benton & Bowles, turned to an animated bear to restore some pride to the Charmin franchise. (P.& G. last year moved the Charmin account to Publicis Worldwide, part of the Publicis Groupe.) The Charmin bear originally appeared in broadcast spots but has more recently been seen at state fairs and festivals, alongside the Potty Palooza, a 32-foot truck with 12 fully outfitted rest rooms, featuring hardwood floors, sinks, floral scents - and Charmin tissue, of course. P.& G. provides the truck as an alternative to portable latrines. While people line up to use the Potty Palooza, the Charmin bear dances and entertains the crowd.

In this case, the bear is extending the message of Charmin's broadcast commercials, in which he does the "Cha-cha-cha Charmin" dance.

"It gets people interested in the bath tissue category," a P.& G. spokeswoman, Celeste Kuta, said. "It's usually a low-involvement category." The bear, she added, "does it in a way you couldn't do with real people."

If Charmin's message remains playful, Quilted Northern opts for a somewhat more earnest approach, with the slogan, "It's Quilted Because We Care." A spot currently in rotation features a cartoon character named Wanda who doesn't care about quilting and, indeed, blows her nose into the quilt stitched together by the other characters, horrifying everyone. In the end, though, Wanda was just a nightmare conjured up by one of the quilters. DDB Worldwide, a New York agency that is part of the Omnicom Group, has the Quilted Northern account.

Kimberly-Clark's Cottonelle brand also stakes out a claim to caring in its marketing, via the slogan, "Looking Out for the Family." The company uses a Labrador retriever puppy to convey that small dogs, like families, need to be treated gently, a company spokesman said. J. Walter Thompson in New York, part of the WPP Group, has the Cottonelle account.


What can I say? Since I'm the grocery buyer in our house, I tend to get whatever's cheaper and I don't clip coupons, but that puppy is a lot cuter than the bear in my opinion… or Mr. Whipple.
- Arik
Posted by Arik Johnson at December 29, 2003 03:53 PM | TrackBack