January 11, 2004
Two-Buck Chuck: Charles Shaw vs. Napa Valley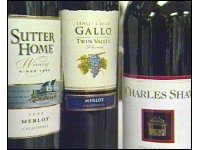 Friday night's 20/20 TV newsmagazine on ABC featured a great piece on the effect Charles Shaw – aka, "Two-Buck Chuck" – is having on the wine marketplace… especially Napa Valley vintners. So much so, they're suing to get the winery barred from using the very word "Napa" on its label.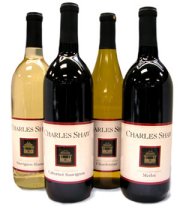 Still, the company took advantage of a micro-economic climate – that is, an oversupply glut of cheap grapes – in California's wine country to change the rules and fans are buying the stuff by the case.
There are a couple of articles on the ABCNEWS.com Web site that recap the 20/20 feature and it's worth a read:
To wine traditionalists, California's Napa Valley is hallowed ground, and a $2-per-bottle upstart wine commonly known as "Two Buck Chuck" is stomping all over it. Though the label of the $2 wine reads "Charles Shaw," it was not the brainchild of anyone named Charles. The wine, which sells exclusively at Trader Joe's stores, was created by Fred Franzia, who prefers to call his product a "super value wine," rather than a "cheap" one.

But Napa winemakers claim it's not the price of the wine that has them teed off. Rather, for one ex-winery owner, it's the name "Charles Shaw." For others, it's the claim "Two Buck Chuck" makes to a Napa Valley origin.

"I like the guy; I just despise his business practices," said Tom Shelton, the CEO of a Napa Valley-based premium label, Joseph Phelps, and part of a group of Napa winemakers suing Franzia to protect the "Napa Valley" name.

"I don't have a real argument with … the existence of Two Buck Chuck," Shelton said. "My argument really is when producers like two buck chuck try to pass themselves off as Napa Valley wines."

The label reads "cellared and bottled in Napa" which is true, but Shelton says Franzia doesn't make Two Buck Chuck with Napa-grown grapes, and that's misleading to consumers.

Shelton says Franzia doesn't make Two Buck Chuck or any of his 32 wines with Napa-grown grapes. His labels read "cellared and bottled" in Napa, which is true. But, even so, Shelton says, it's misleading to consumers.

"This really represents consumer fraud. It would be as if I were trying to pass off a Volkswagen as a Porsche." Franzia says it's all just sour grapes and snobbery, and he's won so far in court. "We'll take them on," Franzia said. "And I'm sure we will prevail legally on this topic."

Maybe so, but Franzia does have a reputation for pushing the legal envelope to the limit. He admits he was convicted of a felony a decade ago, but told ABCNEWS it was "history, about some grapes that got mislabeled," and involved "a small percentage of wine."

But the percentage was not small enough to escape a fine of $3 million and a felony conviction.

A couple years later, in 1995, Franzia bounced back to buy the Charles Shaw label for about $18,000. He has made millions with the label, which racked up $150 million in sales last year.

Still, according to Franzia, "The name is just another name."

However, it's not just another name to one former winery owner — Charles F. Shaw.

"I just want my vintner friends in Napa Valley to know I didn't sell this name to these folks," Shaw said.

The real Charles Shaw lost his vineyard and the Charles Shaw label to his wife in a painful divorce. When she went bankrupt, Franzia snapped it up. Now, Shaw loathes having his name on a $2 bottle of wine that, he says, has forced his friends in the industry to suffer losses and layoffs, even closures.

"I'm very uncomfortable about it, and I'm upset about it, and I think it's wrong," Shaw said. What does Franzia have to say to Shaw?

"I don't have to say anything to it," Franzia told ABCNEWS. "I own it."


And, it tastes good too - the graphic below shows how Shaw rates versus its pricier competitors. Excerpted from the part of the story on quality for the price:

Five years ago, Franzia's nose for business told him California was growing more wine grapes than people could drink. And he was right. When the grape glut came, Franzia bought up tons of cheap grapes all over California to create his rock-bottom priced wine.

Now, "super value wine" is a whole new industry category, with about a dozen labels selling for $3 or less.

"There are a lot wines that are coming down in price," said the economist Robert Smiley, a professor at the University of California at Davis and a leading consultant to the wine industry. "This is a great time to be a wine drinker."

"Everybody in the industry is talking about Two Buck Chuck," Smiley said. "There are few wineries in the very high end who think they're immune and they probably are if they're selling in three digits, over a hundred dollars a bottle. But virtually everybody else is affected one way or another."

And what has winemakers running scared is that Trader Joe's, which has exclusive rights to carry the label Charles Shaw, can't keep it on the shelf.

"You've got the people who buy one or two bottles," says Trader Joe's wine captain Alan McTaggart. "Then, you get the people who buy a case. Then you get the four or five cases."

When stacked up against the competition — red or white — "Two Buck Chuck" held its own, even inching ahead of the $50 Chardonnay.

"These wines don't taste bad," admitted Jess Jackson, the founder of the wine label Kendall Jackson, whose wine was part of the ABCNEWS taste test. "They're thinner. They have less character, less focus … and less heart in the bottle."

Ann Noble, a professor at the University of California at Davis, the country's top school for winemaking, said it's all about expectations, and that knowing the price can influence your taste buds.

"It's cheaper wine, that's the expectation for the Charles Shaw," Noble said. "You have an expectation the cheaper wine isn't going to be as good. I tell you it's a cheaper wine, what do you do? You look for flaws. I tell you this is a good wine, you don't look for flaws, you look for good things."


- Arik
Posted by Arik Johnson at January 11, 2004 12:47 PM | TrackBack