January 07, 2004
TiVo Defends Against DVR Competitor EchoStar by Suing Over "Time Warp" IP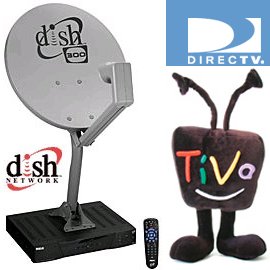 It would appear TiVo is serious about protecting its rapidly eroding monopoly in the DVR market from cable and satellite companies using DVR as a differentiating feature for their services. They've decided to sue EchoStar, the satellite company that seems to be growing most quickly in the DVR category, even as TiVo's DirecTV goes head-to-head with EchoStar's Dish Network.
Both TiVo and Dish hit the one millionth subscriber mark recently, so TiVo's growth has slowed by comparison with EchoStar's in the category. Here's a excerpted backgrounder and deeper dive from CNET on the subject:
San Jose-based TiVo said EchoStar's technology violates its "multimedia time warping system" patent, which it received in May 2001 from the U.S. Patent and Trademark Office. Some set-top boxes used with EchoStar's satellite service come with DVR capabilities.

Defending its patents are crucial to TiVo, which has been emphasizing its licensing business as a complement to its services operations. The company counts major consumer electronics makers such as Pioneer, Sony and Toshiba as licensees.

"We've invested in building a comprehensive patent portfolio to protect our intellectual property, and as the DVR category grows, we will be aggressive in protecting those assets," TiVo CEO Mike Ramsay said in a statement. "The success of our licensing business clearly demonstrates the value the industry has placed on TiVo's technology. It's important that we protect our IP for TiVo and our licensees."

TiVo is seeking monetary awards and an injunction against future sales of DVRs by EchoStar. EchoStar representatives declined to comment Monday and said they had not seen the suit. TiVo has a partnership agreement with EchoStar rival DirecTV, a deal that contributes significantly to TiVo's revenue.

The patent in question, which TiVo filed for in 1998, is described by the company as an "invention allowing the user to store selected television broadcast programs while the user is simultaneously watching or reviewing another program." TiVo has been awarded 40 patents and has more than 100 applications pending, according to the company. The suit was filed in a federal district court in Texas.

TiVo may also be experiencing competition in the DVR market from cable provider Comcast, which in early December said it planned to add TiVo-like features to its service by the end of 2004, using Motorola set-top boxes.


TiVo filed a patent infringement suit against EchoStar Communications Corporation in the federal district court of Texas, alleging that the satellite television service provider is violating TiVo's "Time Warp" patent, which was issued in May 2001.
Key TiVo inventions protected by the Time Warp patent include a method for recording one program while playing back another, watching a program as it is recording, and a storage format that supports advanced TrickPlay capabilities. TrickPlay allows live television broadcasts to be paused, fast-forwarded, rewound, replayed or shown in slow motion.
"We take great pride in the fact that TiVo has created and developed the technology that revolutionises the way people watch television," said Mike Ramsay, CEO of TiVo. "We've invested in building a comprehensive patent portfolio to protect our intellectual property and as the DVR category grows, we will be aggressive in protecting those assets."
"The success of our licensing business clearly demonstrates the value the industry has placed on TiVo's technology. It's important that we protect our IP for TiVo and our licensees," continued Ramsay.
In the late 1990s, TiVo innovated digital video recording, or DVR, technology, which pretty much out-does anything your old VCR can do. Although the TiVo brand, like Kleenex and Xerox, has become synonymous with the product category, other versions of the DVR have been developed by ReplayTV, EchoStar and some cable services. And, many analysts even think TiVo will be outflanked by its competitors.
Still, the DVR revolution that many thought would happen by now really hasn't. It is estimated that DVRs are in fewer than 3 million homes. And, with about 110 million TV homes in the United States, TiVo and its rivals obviously still have a long way to go.
The suit comes several months after EchoStar's Dish Network service introduced a new version of its digital video recorder that allows its subscribers to record one program while playing another.
The market is "growing rapidly and growth is accelerating," said TiVo chief executive Mike Ramsay. "We're very concerned that competitors like EchoStar might use our technology against us."
TiVo has been awarded 49 patents and has more than 100 patents pending, the company said. TiVo said it registered the patent in July 1998, and the government awarded it in 2001.
"If it's determined that people are infringing on our property, we will protect it," Ramsay said. "We really picked our timing to coincide with the growth of this market."
DVRs contain a computer hard drive enabling television viewers to record programs and watch them later or to pause, rewind and slow down live programs. They provide more viewing options and easier interaction than traditional videocassette tape recorders. Forrester Research of Cambridge, Mass., says nearly 3 million American homes have DVRs, a number the firm estimates will grow to more than 40 million in four years.
EchoStar is the largest provider, with more than 1 million subscribers using its DVRs. TiVo reached the 1 million subscriber mark in November, but many of those customers subscribe to EchoStar competitor DirecTV, which has a licensing agreement with TiVo. Cable companies have sold roughly 500,000 DVRs, according to Forrester.
"We're at a moment when this is about to really take off," said Forrester analyst Josh Bernoff. "It's the perfect time to sue. If they waited much longer, it would be too late."
Bernoff said TiVo may be hoping to extract a per-box fee of $1 or $2 from EchoStar. Whether it can depends on the court, which will determine if EchoStar borrowed heavily from TiVo's innovations or developed the technology on its own, he said.
Most analysts, however, are dubious about TiVo's chances of fighting off a rising tide of similar technologies being deployed by both satellite and cable operators. Skeptics also note that lawsuits rarely work as a revenue stream, as Gemstar-TV Guide discovered to its chagrin over the past few years of failed patent suits for its onscreen TV program guide.
TiVo is struggling to maintain its brand lead as it faces increasing competition from cable operators that are rolling out integrated DVRs built by set-top makers Scientific Atlanta and Motorola. TiVo's lucrative distribution deal with satellite leader DirecTV is also in jeopardy as new owner News Corp. is widely expected to start pushing its own DVR box while marginalizing or reducing the royalty rate it pays to TiVo. Currently, some 709,000 DirecTV subs have a TiVo box.
The future of TiVo may be uncertain, but the "TiVolution" has never been more accessible than it was this holiday season. TiVo once required an upfront investment of hundreds of dollars. But, as new competitors continue to emerge, most people can now try the new way of watching and recording television for far less.
In late December, ReplayTV lowered the price on its cheapest machine to $149 and stopped forcing consumers to buy three years of service upfront, cutting the initial cost by more than $300. Time Warner Cable this year began rolling-out of a service that has a TiVo-like DVR built into the cable box and costs less than $10 a month. Some of Cox Communications' customers already have cable DVR service, and Comcast plans to roll it out to all of its subscribers next year.
But even satisfied early adopters have learned not to expect the world. Changing channels can be slow and most machines can't record on one channel while you're watching another. When the hard drive fills up, the systems make up their own minds about what to delete, usually the oldest recordings.
Why has the TiVo concept taken so long to take hold? Like a lot of cool-yet-cutting-edge technology, it can be hard to understand how useful the service is until you actually try it or see it in action. There's also uncertainty over whether start-up services such as ReplayTV, owned by D&M Holdings, and TiVo will survive over the long haul - or whether cable and satellite versions will ultimately corner the market.
So, in months ahead it's sure to be interesting to see how this fight shakes out and whether TiVo can leverage its patent portfolio to discourage other competitors from eating their lunch.
- Arik
Posted by Arik Johnson at January 7, 2004 12:43 PM | TrackBack