January 05, 2004
Ed Zander Takes the Helm at Motorola to Face Challenging Rivals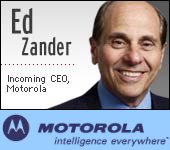 Ed Zander takes the helm at one of America's mightiest corporations today, the first time an outsider has had the wheel at Motorola. After Galvin's white-knuckled race through the dot-com bust, the ex-Sun president and COO faces a TON of competitive challenges. Here's are a couple of excerpts, the first from InternetNews.com, to bring you up-to-speed on what's ahead:
Motorola is bringing on former Sun Microsystems President Edward Zander as its new chairman and chief executive officer, a move that brings an outsider to lead the former number one cell phone maker.

The 56-year-old Zander takes over on Jan. 5 at a time when Motorola has slipped to third in handset revenues behind Nokia and Samsung Electronics.

During a conference call discussing his new position, Zander's comments reflected his goals in the new position. "Motorola should own wireless," he said. "I don't consider this to be a turnaround. Maybe a turn-up, or something like that."

Zander replaces Christopher B. Galvin, grandson of Motorola founder Paul V. Galvin, who announced his retirement in September. Mike Zafirovski, who was a finalist for the top position, will remain as president and chief operating officer (COO) of Motorola.

John Pepper, Jr., director and chairman of the Motorola CEO search committee, said Zander "knows technology and knows how to commercialize it. He has a realistic view of the challenges we face."

In the first half of the 1990's, the Schaumberg-Ill.-based Motorola sold more than half the world's cell phones. Much of that market share faded away by the late 1990's, however, and in August of 2000, the company laid off approximately 60,000 workers. The restructuring returned Motorola to profitability, but the company has yet to regain its market dominance.

In October of this year, Motorola decided to spin off its semiconductor division with an IPO sometime next year.

"Motorola is a global icon with a powerful base of technology, customers and employee assets that are invaluable to millions of users everyday," Zander said. "There is a coming big opportunity in the global communications space and Motorola is leader in digital convergence."

Zander was president and COO of Sun Microsystems (Quote, Chart) until June 2002, when he resigned after it became apparent he would not be selected as the company's CEO. He joined Sun in 1987 and helped lead the company to $18 billion in revenues, overseeing Sun's manufacturing, research and development, and sales and marketing.

Prior to becoming to Sun's COO, Zander served as president of the company's software group, where he led the development and marketing of Solaris and led Sun's network management, PC integration, and software product suites.

"A lot of our growth at Sun was working with the Nokia, Motorola and other wireless companies," Zander said. "We worked with Motorola with Java inside their phones and with 3G. Five years ago, Motorola was the hottest company in the world and then we all got hit with the downturn."

Zander also said he would bring execution and accountability to Motorola.

"We've got to pick our spots and deploy our resources worldwide," he said. "If you visit any part of the world, they are not putting up telephone poles. They are going wireless."


ZDNet.com had an December interview with Zander that gets us inside his head a bit:
Ed Zander is known as a bulldog, and he'll get the chance to prove it again in his new role as CEO of Motorola.

Few doubted that Zander would one day run a major technology company. In 15 years climbing through the ranks at Sun Microsystems, the Brooklyn, N.Y., native built a solid reputation as a hands-on operations guy with marketing smarts and unflagging energy, qualities that made him a rising star on every tech CEO recruiter's short list.

He left Sun in July 2002, after playing second fiddle to Sun CEO Scott McNealy for nearly five years and having no further prospects for internal advancement. This summer, he joined private equity firm Silver Lake Partners in time to help take struggling hard disk maker Seagate Technology public again.

At Motorola, Zander will replace Christopher Galvin--the grandson of Motorola's founder--who announced in September that he would resign once the board installed a successor. The move entails relocating to Motorola's headquarters in Chicago, where Zander will have to hang up his beloved golf clubs for much of the winter.

Zander has taken on what many analysts consider to be a hard case. Motorola is a 75-year-old technology icon that's stumbled, by some measures badly, racking up $6 billion in losses and shedding 50,000 jobs in the past three years. Over the decades, the company has become known for developing major new technology but also for blowing some golden opportunities.

In an interview with CNET News.com editors Michael Kanellos and Evan Hansen, Zander discussed his plans for Motorola, the vision thing, lessons from Sun and the reasons for his departure.

Q: What is your vision for Motorola? Some people think of Motorola as a cellular company. Others see it as a communications company, and overall the image becomes sort of nebulous.

A: I think that's the issue. In some respects, they (the company) let the organization define the company and not the company define the organization.

What attracted me were five things. One, you're staring at a $26 billion, Fortune 59 world icon. Very few guys in their lifetime get that offer. Second: wireless, mobility, communications, convergence, voice over IP--this is a company that is rich in where the industry is going. The opportunities are awesome.

The third thing that attracted me was the fact that they have a $3.5 billion R&D portfolio with a lot of patents. The fourth thing was a global brand. You can go to China; you can go to Europe, Africa, anywhere in the world and mention the word "Motorola." They've got a brand. It may not be the best in the world right now, but it is a global brand.

And the fifth thing is that I really liked the people. They want to win, and (they) have a 75-year heritage of coming up with innovative things, and they want to go kick butt in the marketplace.

What are the big challenges facing the company?

They need to operate and behave like a fast, execution-minded, results-oriented, accountable-type organization. They need to, as you said, define (themselves). When you say "Microsoft," you don't think "Xbox." It is a software company. The same thing with Cisco, the same thing with IBM.

We did the same thing at Sun. In the early '90s we had these operating companies. One of the things I did in 1995 was to define Sun around the Internet and Internet computing. I think that led to a lot of our success. (The old structure) was good for '91, '92 because it let us get into services and software, but it ended up being a real mess because guys like you ended up defining Sun by SunSoft and SNCC and all those other weird names and logos. Sun didn't mean anything anymore.

The important thing here is that we've got to get "Motorola" to mean something. I don't know what that is yet. I know it is somewhere in the world of communications. I look at that M logo every day now, and I think "mobility." These guys really understand mobile communications. But I don't know if that M is mobility or wireless or digital convergence.

Then there are the other businesses. The government business is a multibillion-dollar business. Every government in the world--security, police, fire--uses Motorola. The auto industry is an awesome business.

And the cell phone business would be phenomenal today. It's great stuff, but it just should have been there sooner. The execution in the handset business, if it were a little better off, that would be an awesome business.

They've decided to spin off the semiconductor business, and we will do that from time to time. Some things will be spun; some things will be acquired. The important thing about building a great company is defining what you are good at.

What are your three top priorities right now?

It's - and I'm not trying to put you off - but it's learn, listen and communication. Just before I came (to this interview), I spoke to 400 VPs, and they don't want to hear what my priorities are, because I have no credibility. They want to hear my style and what I value--it is all the mushy stuff. I've got to first sit down and take a Ph.D. in Motorola and then I will be able to size up "Are we in the right business?" Today was the first time I was in the building and saw where the bathroom was. You've got to get that information first.

Do you have an idea how long it might take to size up the company?

I read Lou Gerstner's book a little while ago and thought it was pretty good. Lou took a lot of heat from the analysts at first. They wanted to know what his 90-day plan was and what his vision was. Lou just concentrated first on execution and low-hanging fruit. His big idea--don't break up the company--came a while later. And that is what you do. You try to add value where you can quickly, and the big ideas come.

I don't know whether it is three months or six months. I do know I am not going to just sit around and listen to slide shows. I am going to be out talking to customers and partners. I am going to meet employees.

Chris Galvin said he was stepping down because of a difference of opinion between himself and the rest of management. He's said that he wanted to concentrate on voice, while others have talked about integrating data services into phones. Can you shed some more light on this difference?

I wish I could but I had one conversation with Chris for 20 minutes and did not discuss it with the board. Chris is a good guy, and he is going to help me learn the business.

What is the urgency to the turnaround? We're talking about a company that has lost more than $6 billion and shed 50,000 employees.

Unlike most companies in telco today, they have a strong balance sheet. They have been cash flow positive for the past 15 quarters. They are growing revenue. This is not a company where I have to face liquidity issues. We do, though, have to do a better job and have a sense of urgency.

"Urgency" is kind of an interesting word because Motorola's had a reputation for years as a slow-moving company. One of the rules of the semiconductor industry is that the upturn is over when Motorola announces it is building a fab (chip-fabrication plant). They were No. 1 in cell phones, and Nokia took over. Is that the reputation that's out there?

You know, you make mistakes. We all do. Look at Dell 10 or 12 years ago. (Motorola's) government business is going well. The automotive business is going great. The cell phone thing, sure, they probably didn't see digital as quick as they perhaps should have.

I'm going to side with you. The camera phone should have been out a few months ago, and those are all market-share points. You've got to be maniacal about execution, but they have got a franchise, and the nice thing about the handset business is that the market share jumps around.

Do you think it boils down to a cultural issue?

Stay tuned. I don't know, but there is a sense of urgency or else the board would not have taken action. Chris Galvin is a very, very important figure within Motorola, and this was a tough decision.

Geographically, where is the biggest opportunity?

You get out of North America and you find that any developing country that wants to accelerate their (gross domestic product) is not putting in telephone poles. The Galvin family landed in China early, and they have incredible presence in that geography.

What do you think the role of Linux might be at Motorola? You weren't known to a big fan of Linux at Sun.

Actually, I was a big fan of Linux. Even though I left because I had done that job for four to five years and wasn't going to move up, I bought Cobalt (a Linux server appliance company). The market was changing. There were kids coming out of college, lots of start-ups. I also saw what commodity microprocessors had achieved. When we bought Cobalt, we basically told the executive team and the board that we had to get behind Linux big, but I left soon after, and people just didn't agree with me.

Sun should have owned Linux and should have owned the community. It is Unix and all Unix developers should have been Sun developers with Linux.

How did you end up at Motorola anyway?

It was like everything else in life: totally something you would never look for. I was happy with Silver Lake and my lifestyle. I didn't look at a whole bunch of opportunities. But as an operating guy you know there is always something that could tweak you a little bit.

I think it was the middle of October. I got a call from a recruiter and said, "Nah. I don't know," but I was intrigued. A week later I got a call, and they asked if I would have dinner with John Pepper and Larry Fuller, two of the board members. I think that was Oct. 26. I had a great dinner. I told my wife, "These guys are pretty good, and Motorola is Motorola." I met the rest of the search committee in New York--which happens to include the former CEO of J.P. Morgan. They fired away for three hours. I thought, "My god, I haven't done this in years."

And then it was the end of November, before Thanksgiving, when they told me I was one of the finalists. There was an internal candidate and a strong external candidate. Over Thanksgiving I had a staff meeting with my wife and two sons, my son's wife, my sister and of course, most importantly, my 94-year-old mom. She's 94 and can't see. I said to her, "Mom, what do you think I should do?" She's been telling me for 10 years, "Stop working. Get some rest. You are killing yourself." But she said to me, "I think you ought to go do this." Then the family voted.

Things happened pretty fast. I didn't see a deal until a week ago. It culminated last Sunday.


But, I thought the most interesting part of this story is where Chris Galvin, outgoing CEO, ranked with BusinessWeek – aboard the list of the year's worst managers:
He had the right name, but Christopher B. Galvin never could come up with the right formula to spark growth at Motorola Inc., the electronics giant his grandfather founded 75 years ago. During his seven-year tenure, Motorola lost ground to Nokia in its flagship cell-phone business, watched much of its wireless-networking gear become irrelevant, and saw its chip unit battered by industrywide slumps. The cerebral, 53-year-old Galvin blamed outside influences: a lackluster economy, the telecom spending spiral, and SARS. But in the end, he turned in his walking papers on Sept. 17 when he realized he would never see eye to eye with the board on how to create a more nimble, innovative company.
Good luck Ed. I know a lot of folks at Motorola – and many more who used to be – who are pulling for you.
- Arik
Posted by Arik Johnson at January 5, 2004 12:41 PM | TrackBack