December 18, 2003
Windows vs. Lindows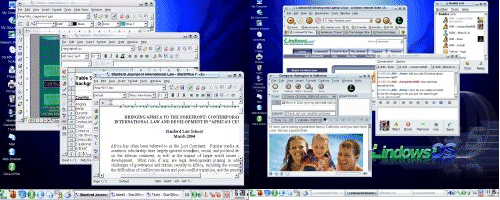 Microsoft is defending itself against another operating system threat in the form of Lindows.com, the San Diego-based company that now faces a penalty of 3 million Swedish Kronas (about $409,000) if it violates a temporary injunction Microsoft was awarded against the company in a Stockholm (Sweden) City Court on Wednesday.
Lindows must stop selling its Linux-based desktop OS products in Sweden, billed as an easy-to-use alternative to Windows, that allegedly violate Windows trademarks, including terms such as "Lindows", "Lindows.com" and "LindowsOS". The legal move to Europe, follows Microsoft's filing suit in the U.S., an action which is set to go to trial in early 2004.
Meanwhile, Microsoft and Lindows have been going at it on other fronts as well. A Web site set up by Lindows allows California consumers to electronically (and much more easily) file for a share of the $1.1 billion class action settlement by the state against Microsoft, which Microsoft says violates the terms of the settlement. Here's an excerpt from the article on the Lindows Web site that addresses the issue of settlement rebate vouchers:
The clock is ticking for owners of Microsoft products who want to claim their share of the $1.1 billion class-action antitrust judgment against the company. In January, Microsoft agreed in San Francisco Superior Court to pay that amount to California customers to settle 27 lawsuits that accused the software maker of harming consumers with an illegal monopoly.

Much of the $1.1 billion will go to businesses, many of which have bought so much software they will qualify for a rebate of more than $1 million, Crew said. A San Diego Microsoft competitor has come up with another way of processing refunds, but the Redmond, Wash., software maker is trying to block it.

Lindows.com, which sells a version of the Linux operating system, is offering to process vouchers on behalf of customers who use them to buy $50 to $100 worth of software from its Web site at www.msfreepc.com. Although class members can't get their refunds until next summer, Lindows.com is allowing people to get their software free or at a discount right now through the program. It's even giving away a free low-end PC, which it normally is priced at $169, to the first 10,000 people who use the site to claim their vouchers.

Microsoft calls the offer "deceptive" and warns that Lindows .com may not get reimbursed for claims it processes for class members in this unorthodox way. "Right now, the way that (Lindows.com's offer) works is not the way the claims procedure works," said Microsoft spokeswoman Stacey Drake. "We are concerned that the Lindows site misuses the California court-approved process as a marketing tool."

The process for redeeming claims by mailing in a paper form was negotiated between Microsoft and the plaintiffs' attorneys at Townsend and Townsend. But Lindows.com chief executive Michael Roberts said the paper claims process is too inconvenient. "Microsoft made it a very complex process. They don't want people to take advantage of the settlement, because if they don't, Microsoft pays out less money," Roberts said.

Microsoft will get to keep one-third of any unclaimed funds in the settlement, with the remaining two-thirds going to needy California public schools. Like class members, the schools will get vouchers they can use for a wide variety of tech hardware or software.

But Microsoft's Drake said Lindows.com's online process makes it too easy to make a claim, making it more likely that people without legitimate claims will file. Crew, the plaintiffs' attorney, said he has no problem with the Lindows.com system. "We don't see any kind of deception or fraud," he said.

Lindows.com has promised that customers will be allowed to keep the software they bought with the virtual vouchers, whether or not it gets reimbursed through the settlement. In the end, Crew said, the issue of whether Lindows. com gets paid will not be up to him or Microsoft, but the court-appointed administrator who will process all the voucher claims. "The claims administrator has to decide," he said. "That's their job."


In November, Microsoft had filed a court motion to force Lindows to take the site down:
As part of the California settlement, consumers who purchased Microsoft products between Feb. 18, 1995, and Dec. 15, 2001, can apply to receive vouchers for refunds on future purchases of computer products and software after filling out a series of forms. The MSfreePC.com site prompts consumers to answer a series of questions to see if they qualify for a portion of the settlement. If they do, they then can access the Lindows desktop Linux operating system and other software that competes with the Microsoft platform.

Microsoft, in its latest court motion, wants any claims from MSfreePC.com to be rejected because it says the antitrust settlement requires consumers to physically sign claims forms, while the site only requires a digital signature. Microsoft also says that consumers must essentially transfer their claims to Lindows.com in order to receive access to software in violation of the settlement agreement's rules.

Lindows.com defended its MSfreePC.com site on Monday, saying that it meets the "letter and the spirit of the antitrust settlement."

Lindows.com CEO Michael Robertson, in a statement, criticized Microsoft for using digital signatures itself while disputing their validity in the antitrust settlement and said that Microsoft's actions are an attempt to reduce the amount its pays out. Lindows.com plans to submit a rebuttal to Microsoft's motion within the next two weeks.

Along with the rejection of claims from MSfreePC.com, Microsoft also wants the administrator of settlement claims to tell consumers that the Lindows.com site is not authorized and point them to the official settlement Web site, www.microsoftcalsettlement.com, and to mail the paper claim forms to any consumers whose claims are rejected in the Lindows.com dispute.


Since the Swedish court ruling last week, European resellers have been caught in the crossfire, with Lindows distributors throughout the continent being threatened with legal action until the Lindows name is changed:
The injunction is the latest salvo in an increasingly nasty war in which Microsoft appears determined to quash the Lindows name permanently. "What we're asking Lindows to do is to change its name," says Microsoft spokesman Jim Desler. "It is Lindows.com that put these [European] resellers in a compromising position by their deliberate infringement on our trademark."

Lindows.com Chief Executive Officer Michael Robertson isn't one bit happy. "It is another example of Microsoft attempting to eradicate all competition through any means," Robertson told a group of European resellers. "While they say they invite competition, behind the scenes they seem willing to take any actions - including blatant extortion - to squash competition."

In November, resellers in the Netherlands got tangled up in their own Lindows skirmish. They cried foul after receiving telephone calls from Microsoft allegedly threatening them with possible legal action if they continued to sell the maverick, Linux-based operating system.

On Nov. 25, Dutch reseller Hans de Vries, owner of DV Computer Systems, informed Robertson that Microsoft was about to drag his company into litigation against the Lindows name in the Netherlands. "What I understand from that phone call is that they want that I stop selling Lindows OS computers," de Vries wrote in an e-mail message. "I don't like this but when they are taking this to court and involve me then I must stop selling Lindows OS because I don't have the money for lawyers," de Vries continued.

An angry Robertson branded the threats as "blatant extortion" and responded by jetting to Amsterdam, kicking off a weeklong trip designed to support international resellers of LindowsOS who have, according to a Lindows.com statement, "endured harassment from Microsoft."

Microsoft's tactics are not keeping Robertson from moving ahead with a new product. "We're now launching LindowsOS 4.5 in Europe as a show of support for our resellers, who Microsoft is threatening with legal action if they continue to sell Lindows.com products," says Robertson.

As for Microsoft's view of the operating system itself, Desler says there's no problem. "There are many Linux-based operating systems out there, and we don't have an issue with any of them. The only problem we have with Lindows is the name. This is a clear case of trademark infringement."

In the United States, however, that question has yet to be decided. On Dec. 20, 2001, Microsoft filed a complaint in the U.S. District Court for the Western District of Washington against Lindows.com, alleging trademark infringement, trademark dilution, unfair competition and unfair business practices.

At that time, Microsoft requested a preliminary injunction enjoining Lindows.com from using the Lindows trademark "in the promotion, advertising, marketing, or sale of a software product in competition with Windows." Two subsequent rulings denied Microsoft's request for an injunction, and raised questions about whether the term "windows" is a protectable trademark. A jury trial to determine the trademark's validity is slated to begin in March 2004.

Robertson is no stranger to controversy: In 1997, he launched the digital music Web site MP3.com. Facing its own legal battles, the site was purchased by Vivendi Universal and, in November 2003, sold to CNET Networks Inc.


So, the real question revolves around whether Windows is a Microsoft trademark then. I don't know of many computer applications that would be so inextricably linked to Microsoft - other than maybe "office". But, if Microsoft loses this fight on those grounds, they've certainly done themselves more harm than good...
- Arik
Posted by Arik Johnson at December 18, 2003 03:44 PM | TrackBack