December 16, 2003
Abercrombie & Fitch: Accusations of Racism in Sales Staff Hiring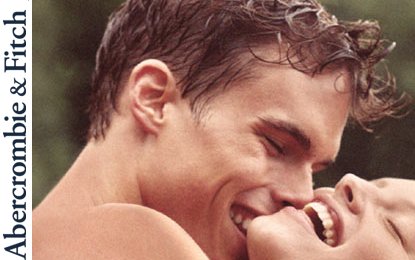 CBS News' program "
60 Minutes
"
did a piece recently by Morley Safer on Abercrombie & Fitch and accusations of racism in their hiring practices
for in-store sales associates – essentially that, the company excludes people of color from jobs, hoping to sell clothes to a particular (racial) demographic… e.g., white. The excerpt below is from the conclusion of the piece, but you can read it all for yourself online. In light of their recent pulling of the controversial catalog in the past few days, this other bit of bad press is probably not what they were hoping for as a Christmas present.
After bankruptcy and buyouts a few years ago, Abercrombie decided on a major face and body lift. Out went the camping gear - and off came the clothes.

Abercrombie's image is now party-loving jocks and bare-naked ladies living fantasy lives. Nubile young store "greeters" stripped down during the holidays to boost up sales. Flipping through their catalogs, you now might wonder what Abercrombie is selling. Could it be clothes?

"Sex sells with any age group, and that's what they're trying to do," says Elizabeth Nill, a sophomore at Northwestern University. Elizabeth and her friends feel that Abercrombie & Fitch has a certain something.

"I would describe it as the all-American look. I know it's very cliché," says Elizabeth. "But I don't think there's really any other way to describe it."

In fact, she enjoyed shopping there so much that she is often asked if she wants a job. She says it's happened to her about five times, in three different stores.

And it's not by accident. Abercrombie & Fitch wants a sales force that reflects what's up on its walls - cool yet seductive.

"The skirts are getting shorter. The tops are getting smaller," says Elizabeth. "That seems to be the trend and Abercrombie is going with that."

But Abercrombie & Fitch, the reputation that it once had was a very classical, classy look. That's long gone. Now, the provocative strategy aimed at teens and twenties has done wonders for Abercrombie's bottom line. And of course, the more parents are outraged, the bigger the sales. And now with more than 600 stores and annual revenues well over $1 billion, Abercrombie & Fitch has become just about the largest teen retailer on the block - and a mainstay of "Generation Y" couture, and even its music.

But all that fair hair and skin has made them a juicy target. They're being taken to court, accused of racial discrimination in their hiring. Does Abercrombie's all-American look exclude some Americans?

"All-American doesn't mean all-white," says Jennifer Lu, a student at University of California, Irvine and a former salesperson at a Costa Mesa store. Lu and several other young people say they couldn't get a job or were fired because their "look" was not consistent with the Abercrombie "look."

"It's dominated by Caucasian, football looking, blond hair, blue eyed males. Skinny, tall," says Lu. "You don't see any African American, Asian Americans And that's the image that they're portraying and that they're looking for."

Lu says she was fired after corporate officials visited the store, and according to her, didn't like what they saw: "A corporate official had pointed to an Abercrombie poster and told our management at our store, 'You need to have more staff that looks like this.' And it was a white Caucasian male on that poster."

She says shortly thereafter that several Asian-American salespeople were fired and replaced with white males.

Anthony Ocampo says blacks, Asians and Latinos were sometimes hired by Abercrombie, but he says "the greeters and the people that worked in the in-season clothing, most of them were white, if not all of them were white. The people that worked in the stockroom, where nobody sees them, were mostly Asian American, Filipino, Mexican, Latino."

Ocampo worked four years ago as a sales rep at an Abercrombie store during his Christmas break from Stanford University. He says he assumed his job would still be available when he returned home that summer, but when he turned up for work he found out he lost his job.

"'We're sorry. We can't rehire you because we already have too many Filipinos working at this store,'" recalls Ocampo. "Too many Filipinos. That was her exact words … I was speechless. I didn't really know what to say. I've never seen racism that explicit prior to that."


The closing quote from the piece: "... their all-American image does not mean all white. That's not right. That's not legal," says Lu. "That's what we grew up learning all-American to be. All-American, a melting pot. Not all white."
- Arik
Posted by Arik Johnson at December 16, 2003 03:41 PM | TrackBack