December 13, 2003
AT&T and Qwest Jump Aboard VoIP Bandwagon, Following Time Warner Cable Deal with Sprint & MCI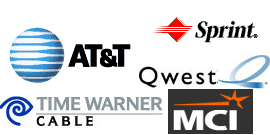 AT&T and Qwest both joined the VoIP fray, along with Sprint and MCI's allegiance with Time Warner Cable, carving out the entry of big telecom into the emerging, fast-growth market that is rapidly commoditizing their existing local and long-distance businesses. The only question I have is, what took them all so long? I've had Vonage service for over nine months now as my primary landline after my cable company - Charter - couldn't say when they'd start rolling VoIP dialtone to my highspeed cable modem line. If you're a cable company thinking of entering this market, the calendar just got a lot tighter.
My thoughts are that this most recent round of initiatives is the Telecom Act coming home to roost in the free-for-all world of Internet communications. Regardless, itís good to see some competition for Vonage in the space, as the plans promise to lower the cost of phone service more broadly and include new features (which Iím already used to, thanks very much), like the ability to check voice mail or program call-forwarding requests on the Web. But, until now, VoIP has been pretty much a niche service, as fewer than 200,000 Americans use Internet phone service as their primary line, according to TeleGeography.
But, that penetration is sure to soar in 2004. Besides the announcements made this week, the nation's biggest phone company, Verizon, plans to deliver a consumer Internet phone offering within the next six months. Hereís a press excerpt on recent events, that explains the technology pretty well too:
"The giants getting into the business gives Voice Over IP credibility," said Guzman & Co. analyst Pat Comack, using the technology's official name. "People will give it a shot now. All of a sudden, this is not a toy anymore."

But while the Internet phone bandwagon swells, the full-fledged revolution seems several years away. For now, only the roughly 20 percent of U.S. households that have broadband Internet access can use the technology.

Perhaps most importantly, special steps have to be taken to make the Internet phone systems connect to 911 dispatch centers or work in blackouts like the old-fashioned phone network can.

"I'm not going to pretend that we're ready to solve those problems," AT&T spokesman Gary Morgenstern acknowledged Thursday. "We're working on that."

Other providers say they have addressed those issues. Internet phone pioneer Net2Phone, which is focusing on helping cable companies deliver the service, boasts that it also has overcome the technical hurdle of letting law enforcement officials set wiretaps, which phone companies are required to allow.

Traditionally, a phone conversation is converted into electronic signals that follow an elaborate network of switches in a dedicated circuit. Long-distance calls cost more because regional carriers have to be paid for originating and terminating the calls.

The new technology has a terribly nerdy name, Voice over Internet Protocol - or Voice over IP or just "VoIP" - but its premise is pretty simple.

When a call is made, the sounds are converted into packets of data that take diverging paths around the Internet or private networks, just like e-mails or Web pages. The packets get reassembled as sound on the other end of the call. The sound quality sometimes strays from perfection - though it has come far in recent years and is expected to get even better.

The process is cheaper because it cuts some or all long-distance access charges out of the equation - though that is a contentious issue under consideration by the Federal Communications Commission. It also helps big businesses save money because they can use their expensive data networks to make phone calls instead of only shuttle files around. And because voice is sent like any other kind of data, new videoconferencing services and Web-based phone messaging applications are possible. The address book in an e-mail program can dial a number with the click of a mouse.

Combine all those elements, and VoIP represents a tidal wave.

Providing service costs Vonage about 1 cent a minute; AT&T probably could do it for about seven-tenths of a cent because it has its own vast data network, says UBS Warburg analyst John Hodulik.

With such low costs, charging for long-distance by the minute will probably give way to "all you can eat" plans. For example, Time Warner Cable lets its Internet customers in Raleigh and Portland make as many calls as they want for $39.95 a month.

Also, cable TV companies increasingly will use VoIP to sell phone and broadband service in an attractively priced "bundle" that makes customers less likely to leave. In response, phone companies might have to accelerate plans to upgrade to fiber-optic lines that can carry a huge amount of bandwidth, including ultra-fast Internet and high-definition TV.

In the meantime, the billions of dollars worth of copper phone wires spread across the country figure to gradually become obsolete. AT&T stopped investing in the old-style "circuit-switched" infrastructure several years ago, opting instead to build only data networks.

"It's not a question of if," said Forrester Research analyst Charles Golvin. "It's a question of when."


The earlier announcement by Time Warner Cable that it is working with Sprint and MCI to offer phone service using VoIP is one of the surest signs yet that cable companies are going to war with the local phone industry. Here's another excerpt (paraphrased):
While other cable companies sell phone service to their customers in selected markets, the deal announced last Monday is the first time VoIP will roll to nearly nationwide phone service by a cable company.

"We've moved out of the talking stages and into the reality," said Jeff Kagan, an independent industry analyst based in Atlanta. "2004 is going to be the year cable and phone companies get into each other's business and start competing."

At a switching station, the calls will be transferred to either the MCI or Sprint phone networks and into the traditional format that reaches most phone users. Improving quality gives cable companies an efficient way to break into the phone business. Meanwhile, telephone providers are increasingly going after the cable companies by cutting prices on digital subscriber line (DSL) high-speed Internet service and by bundling satellite TV service with local phone bills.

Sprint and MCI said they were in talks to facilitate phone service for other cable providers but provided no other details. "It's a whole new business for Sprint and MCI to get into," Kagan said. "It helps to diversify the business. It's a whole new revenue stream for Sprint and MCI and it's a huge opportunity because Time Warner is just one of many cable companies they can work with. This is just what the long-distance industry needed." The companies provided no details about how much the deal was worth.

Time Warner's cable and high-speed data customers in Portland and Raleigh pay $39.95 for unlimited local, in-state and domestic long distance calling. Customers that don't receive other Time Warner services pay $49.95 a month for phone service. Time Warner Cable spokesman Keith Cocozza said prices will remain similar when the program is expanded nationally. "What we've always wanted to do is offer our customers a wider range of services for the best value," Cocozza said. He said voice-over-IP "allows us to get into a market we haven't been in."

Martin Dunsby, an analyst at consulting firm inCode Telecom Group, noted that the technology also provides consumers with other options because the calls are carried by lines that can handle other kinds of data as well. That makes picture messaging and video conferencing possible.

"Really, it means more choice for consumers," Dunsby said. "Instead of having to go to the local phone company for phone service and cable company for cable you can go to a range of providers for a range of services."


It's a shrewd move that allows Time Warner Cable to leap a big hurdle, by using Sprint and MCI to provide interconnection facilities, long distance traffic, 911 service, relay systems and operator services. The service, which will be called Digital Phone, includes unlimited local, in-state and domestic long distance, and customers who add the service will be able to keep their existing phone numbers. Time Warner Cable has 10.9 million subscribers in 27 states. A spokesman for Sprint said the 17 markets that Sprint will service are about half of the total markets covered by the three-year agreement. MCI will cover the rest.
VoIP trials have varied a lot in how they packetize voice, and few carriers are ready to move directly to an IP-based client using the Session Initiation Protocol, or SIP, in phones or PCs. Instead, most services will use existing analog handsets, converting to packet at an aggregation gateway.
Even this partial offering carries immediate benefits, as in the case of AT&T, which can offer flat-rate service for both local and long-distance by transporting all voice traffic as packets. One financial analyst who covers AT&T said "the first impact will be to create more vicious competition between interexchange and local carriers, with prices dipping so low [that] some carrier operating expenses could suffer. The second impact will be to hammer the specialized long-distance providers who use a leased interexchange carrier. Without direct access to transport, they won't be able to meet the VoIP challenge."
Following a ruling by Minnesota's Public Service Commission regarding regulation of VoIP services from Vonage, Qwest will offer VoIP service in Minnesota, using either IP phones or analog phones with adapters, linked to DSL modems. The service, already available in some Minneapolis-St. Paul neighborhoods, will be expanded to most of Qwest's 14-state region in the first half of 2004. AT&T announced it would offer IP-based local and long-distance phone service to its customers with broadband access, enabling most services within 2004.
My analysis: the real killer app here is Unified Messaging, not Bundled Services. It should be interesting to see where commoditization takes prices next year - and the effect it'll have on the growth wireless telecoms have enjoyed of late - still, I think anybody who competes on price instead of features is probably doomed. I've found that a VoIP landline and a cell phone I can auto-forward it to if I don't pickup at home, makes for a real - and cheaper - telecom solution.
- Arik
Posted by Arik Johnson at December 13, 2003 03:38 PM | TrackBack