April 10, 2005
SCIP 2005 Trip Report – the 20th Annual SCIP International Conference & Exhibition in Chicago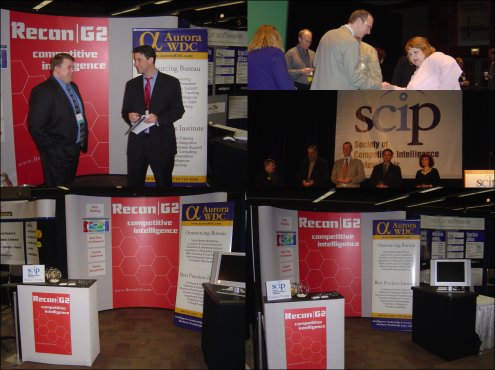 Now that I'm home from Chicago, it's good to look back on a week when blogging turned out far more challenging than I'd ever thought it might be… so, if you like, share my week with me below – starting from saying goodbyes to the family until returning back to them again a week hence.
I spent Saturday 2 April hanging out with Tina and Liam and just spending a non-work day together, now that all the preparations are done and there's nothing more to do but get to the conference and execute our mission there. That being, to give good speeches, be a good steward as member of the Board of Directors, accept my Catalyst Award, hopefully convince a few new clients we're worthy of try-outs while wining-and-dining our current customers with Chicago nightlife, sleep more than three hours a night, steer clear of too much beer, and spend the time in between having a few hundred substantively intellectual conversations with some of the smartest people in the world.
Simple, right?
After Church on Sunday morning, my family had brunch together, said our good-byes for the week and I was on the road for Madison where I arrived toward nightfall, at Derek's place, crashing fairly early as we had a bunch of tasks to accomplish in the AM together. Monday morning went well and we got all of our priorities lined up for the next several days, including all the 10-hour research and analysis bureau vouchers we were raffling off to lucky business-card-droppers in our fishbowl at the booth throughout the week, as well as getting a 20-inch LCD monitor bought, Internet in the booth (at the last minute), another break-down table to rent (at the last minute), and making sure all of our USB-Flash drives were loaded with the digital version of our collateral materials (ATLM… natch!). It was mid-afternoon by the time I hit the road for Chicago, but the lime-green Mustang served me well around O'Hare's toll-ways, as people stopped to stare at the car, I slipped in and out of traffic faster than I otherwise might. Finally in around dusk, I got checked in, hauled my stuff upstairs and had a steak with John Prescott – one of the "Ancient Ones" who originally helped form SCIP, WAY BACK 20-odd years ago, and who now, tirelessly it seems, serves again on the SCIP Board of Directors. John's cool.
Tuesday was all SCIP Board of Directors meeting – things looking VERY good indeed for a rejuvenated organization, Tim Kindler from Kodak presiding, saying our thank-yous to a departing President Emeritus Melanie Wing from JPMorganChase, greeting the President-Elect Craig Fleisher from University of Windsor and watching Dale Fehringer's (now retired from Visa) impressive video presentation the he and SCIP's Education Director, Liz Reed-Martinez, put together to commemorate the 20th anniversary (no kidding, it gave me goosebumps, it was so good!). Good stuff! Beers after our planning meeting for the European Conference coming up in November, people started arriving for the conference – mostly vendors, like me – tonight and it was tempting to stay out later than I should. So, I pretty much did… tonight's the only real night I can afford to do that, after all.
Wednesday was primarily booth setup day for exhibitors – Derek rolled in and spent a frustrating afternoon trying to get his 20-inch LCD panel to work, never did, went out and bought ANOTHER ONE at the last minute, met up with William Black from Autonomy, who was in our booth for the next couple of days doing demos of the spookiest software available today – practically THINKS for itself! No kidding… But before that, I moderated the Buyer's Panel this afternoon, putting three CI corporate practitioners on the spot to answer vendors' questions about how to better sell to them. These three brave souls, Kimberly from Microsoft, Anne Marie from JPMorganChase, and Tom from Sprint, performed brilliantly and I heard lots of great comments from the vendors in attendance that it was a valuable series of insights into what these customers want to buy and how to better serve them. Afterwards, it was down to exhibits to join Derek, our newest research analyst Ryan Dunn, and William Black from Autonomy at booth 228 to kick off with the 5:00 reception. Although the Internet connections for pretty much all of the vendors were on the fritz (still not cleared up by Thursday morning, by the way) we were able to at least make use of the hard-won LCD Derek acquired with the Autonomy presentation running circuits and seeing a TON (no kidding, like 100) clients that first couple of hours on the trade show floor. Since this was probably my only major block of time in the booth, the opening reception was definitely well worth it. Derek, Ryan and William took most of the rest of the week from there. Tonight I joined the Chapter Coordinators meeting for dinner and presentation and later got some beers with Ryan, Derek and a couple of clients at the Big Bar before getting an early night in.
Thursday was the opening of the conference and also the opening keynote – with Tim Kindler leading things off, Melanie said a tearful goodbye and Bob Galvin (ex-CEO, retired from Motorola 15 years ago) took the stage. Though clearly a frail and old little fellow physically, his mind was like a steel trap and the power of his ideas had most of the crowd transfixed – truly wisdom of the ages and I got a real sense of "where he'd been" throughout his long life – including friendships such as Sony's founder and chairman, service on the intelligence oversight committees to presidents, and a lifetime of raising a family and being raised in one. Then, Dale's stunning video montage, and my good friend Kirk Tyson was given his Meritorious Award, then we adjourned following Galvin for picture-taking, before heading into conference sessions for the rest of the day… not that I really got to see many… I sat in on a couple but was mostly was running around observing Dale and helping out where I could, stopping and having one of the 500-odd great conversations with many people I only ever get to see at this event every year. Close of business toward the end of the day boiled down to heading for the Cabaret-style party up on the top of the AON building – going long, and it was tough to hear the Fellows Awards for all the talking and room layout – I served on that selection committee and it was a tough field to choose from, so congrats to Paul Dishman, Mark Little and Vernon Prior! Otherwise, Derek introduced me to a BUNCH of research and analysis clients I'd never had the chance to meet, as well as getting intros to some of our business partners' customers as well, so it was some work to be done, but it was all fun.
Friday was the biggest of the days of the conference for me – after getting Derek and Ryan and William underway at the booth during breakfast and spending a little time there myself, it was time for the opening of Day Two of the conference and the keynoter was a guy named Jim Carroll, who came on after the Catalyst awards were given out – I got a nice little crystal obelisk – and, Craig Fleisher gave the SCIP remarks. Immediately after getting our pictures taken and all before I had to rush out to give my Innovation in Practice talk on Sarbanes-Oxley Section 409. It went extremely well and the subject was VERY well received by pretty much everybody – including the other folks I know who've done work on the subject. Afterwards, we broke up and I got a bite to eat at the booth and did what would be our second-to-last schmoozing session, then connected with Jordan Frank from Traction Software for the afternoon session prep in the same room I'd been in earlier, and we proceeded to do our "Collaborative Early Warning" workshop for the next two hours, spending some time on the fundamentals principles and then very quickly moving into the "TAM-3 Inhibitor" Scenario on Nearsightedness – really great stuff! The audience really dug it too and we walked away with a bunch of very interesting relationship possibilities for the future – including a couple of requests to work this into an in-house one-day workshop to be delivered onsite for clients. Finally after we broke up and let people go, collecting our business cards and heading down to the exhibit hall for the closing reception, it was our final shot at client meetings. We mostly said our goodbyes and established our followup schedules, but everyone really knew, we'd just had what will be remembered as the best SCIP conference in at least five years. My booth team started their breakdown and departures for home, while I hit the Presidential Suite for the President's Reception party for the next couple of hours. Well done to all – in particular the committee, led by Dale – as well as the incomparable SCIP staff – good job guys. Final beers with a few of our business partners at the Big Bar, after seeing off William and Ryan and Derek for home – great couple of days, gents – we're changing the CI business forever, guys!
Saturday the 9th was all postlude… still tired despite a restful night's sleep and a dash off to introduce Ken Sawka's SCIP Institute workshop at 8:00, then relaxing with SCIP Staff and Board members before people started setting off for home, I sat in on the Staff meeting with Dale and his leadership committee – Tony Wilson and Michael Sperger – doing their Monday-morning-quarterbacking of the way the week had gone and what needed to change for next year in Orlando. Generally speaking everybody agreed it was the best conference in recent memory, and I was already looking forward to a speedy trip home to the family tonight!
But first discussion of what needs to change for next year? In terms of speakers and content, quite frankly, we're still not "casting a large enough net" to draw in people from OUTSIDE the CI field with ideas we can benefit from.
I use the analogy of a children's football team – the team from the school with 3000 kids is going to beat the team from the school with 300 kids virtually every time… not because of any inherently beneficial demographics that size can afford, but simply because the talent pool to draw from is bigger and, therefore, mathematically deeper than that of the smaller sample. In casting a wider net, as I say, we can bring in ideas from related fields – from security to market research to risk management and even product development, M&A and strategy realms. The biggest thing CI needs to move the field forward is a shot in the arm of controversial ideas. We need to change the tone. We need to make content selection more competitive.
So why, you might ask, would I care so much? Because I'm chairing the next conference in Orlando and I expect us to put together a conference program that'll draw you, dear reader, down for the event! Mark your calendar now – 26-29 April 2006 at the Disney Coronado Springs Resort in Orlando, Florida.
Cheers for now, great seeing you all in Chicago and best wishes until we meet again (Orlando?)!
- Arik
Posted by Arik Johnson at April 10, 2005 11:42 AM