March 25, 2005
50 Cent vs. The Game – Staged PR Controversy?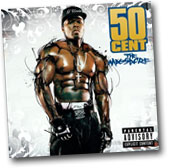 Jody Rosen postulates about the key success factors in 50 Cent's rise to power, while observing how unusual and, almost, STAGED it felt that 50 Cent and The Game, members of the same posse who's respective entourages broke into gunfire over back-and-forth dissing, when on March 9th, they buried the hatchet; it certainly would've been a publicity stunt of violent proportions that seemed to have worked - 50's album "The Massacre" sold 1.14 million copies in its first four days of release. Rosen's argument in Slate.com cracks the code by analyzing the approach strategy and patterns 50's used to overcome his handicaps as MC – that is, picking fights with higher-profile rival rappers and riding their coat-tails to success:
50 Cent learned the value of a well-picked fight six years ago, when he released his debut single, "How To Rob," a hilarious song that depicted the upstart MC on a crime spree against a string of A-list rappers and R & B singers: "I'll snatch Kim and tell Puff, 'You wanna see her again?'/ 'Get your ass down to the nearest ATM'… I caught Blackstreet on a back street in a black jeep/ One at a time, get out and take off your shine." Several top MCs—Sticky Fingaz, Big Pun, Ghostface, and the King of New York himself, Jay-Z—rose to the bait, answering 50 Cent's jokey insults. In a flash, the little-known rapper from Queens was on the map.

"How To Rob" introduced 50 Cent as a kind of trickster-insurgent, firing potshots at "industry niggas," and established the principle that has guided him to this day: When in doubt, dis. On his 2003 debut album Get Rich Or Die Tryin' (and on a series of much-hyped bootleg releases that preceded it), 50 Cent took aim at the pint-sized rapper Ja Rule. The target was well-chosen: Ja Rule was a hugely successful but patently weak MC with a gravelly voice that 50 Cent memorably compared to the Cookie Monster's. Supposedly, the rappers' beef had roots in a mugging back in Queens, but in songs like "Back Down," 50 Cent's motives seemed careerist: He was clambering into the spotlight on the back of a high-profile rapper, casting himself as a hard-core alternative to Ja Rule's bubblegum rap. ("You's a pop tart sweetheart, you soft in the middle/ I eat ya for breakfast.") By the end of 2003, 50 Cent was hip-hop's newest multiplatinum superstar, Ja Rule a virtual laughingstock

The dirty little secret of rap fans is this: Beneath the Sean John hoodies and thuggish scowls, they're more gossip-obsessed than Cindy Adams and a roomful of her girlfriends. (Don't believe it? Surf on over to Allhiphop, Rapdirt, or any of dozens of other Web sites.) The rise of glossies like the Source and XXL, BET's 106th and Park, and other hip-hop-centric media has created an echo chamber for rap rumors and fundamentally altered a rapper's career calculus. More than ever, hip-hop is a political game, steeped in cults of personality. New stars may rise on the strength of beats and rhymes, but a rapper's longevity depends upon his or her ability to adapt to fashion and keep themselves in the news. 50 Cent navigates this matrix better than anyone. Take his recent dust-up with The Game. Plenty of rappers dis their rivals, but who besides 50 would appear live on the radio to denounce a member of his own posse while two of their duets were perched in the top 10?

The irony of 50 Cent's serial beefing is he doesn't really have the skills to support the habit. The songs on The Massacre offer simple, visceral pleasures: catchy singsong choruses, minor-key synthesizer hooks, and 50 Cent's trademark slurred voice, trailing languidly behind the beat. But 50 Cent has never had the lyrical depth of great MC's like Jay-Z or Eminem, and on The Massacre, his rhymes have become brutally generic: "Shorty's hips is hypnotic She moves it so erotic/ But watch—I'm a watch her bounce that ass, girl." Pumped up like Jose Canseco, drawling on about getting it crunk and making it thump, 50 cuts a lumbering, stolid figure. In his own way, he's as much of a pop-rap caricature as Ja Rule ever was.

We'll see if Judakiss gets 50 to accept the $1-million challenge for a live, pay-per-view hip-hop cage match on cable...
- Arik
Posted by Arik Johnson at March 25, 2005 08:47 AM