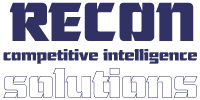 Founded by Managing Director, Arik R. Johnson, in 1995, the Recon CI Solutions staff at Aurora Worldwide Development Corporation is a multi-faceted competitive intelligence outsourcing and support bureau, serving clients in every industry, with transnational primary and secondary research and analysis capabilities covering every continent worldwide. As it is entirely likely we are already working with clients at your firm, we invite you to explore our capabilities and inquire about applying our resources to your own CI needs.
---
There are two categories of services the firm provides:
Research & Analysis: Commissioned and Ongoing Competitor, Market and Customer Research via telephone and in-person interviews, automated monitoring of secondary sources (news, Web, intellectual property, financial and legal filings, etc.), trade show and conference intelligence, and Competitive Analysis of the research output to contextualize for meaning and understanding for a client's specific needs -- often producing recommendations for competitive strategy. Furthermore, we ensure zero incidence of interest conflicts in working with clients based on our unparalleled company structure of internally-competitive "intelligence liaisons".

Consulting & Training: In addition to performing intelligence collection and analysis for clients, we also assist in setting up new intelligence programs, both at the corporate and business-unit levels, as well as helping existing CI functions improve their deliverables through our unique intelligence philosophy. This includes business process design, software integration, staff development (training both CI staff and internal customers), selection of third-party solutions and full-scale CI department and functional outsourcing.
Our Recon CI Solutions staff produces actionable, event-specific competitive research, analysis , consulting and training services designed to meet the focused needs of our diversified clientele from our various practice teams, concentrated on the following sectors:
High Technology (Telecom, Semiconductors, Computing, Software, Internet, IT Services)

Financial Services (Banking, Investing/Finance, Insurance, Real Estate)

Life Sciences (Pharmaceuticals, Medical Devices, Healthcare Services, Biotechnology)

Media & Entertainment (Broadcast/Publishing, Travel/Leisure, Information Services)

Transportation (Airline, Automotive, Logistics/Shipping, Aerospace/Defense)

Utilities & Commodities (Agriculture, Energy, Mining)

Retail/Wholesale Trade (Apparel, Food/Beverage, Consumer/Household, E-Commerce)
---
If it's your first look at Aurora WDC and you're considering outsourcing part or all of your intelligence needs in the near future, click the link below to learn more about how Aurora's Recon CI Solutions bureau will strive satisfy your needs.