New & Prospective Client Orientation
---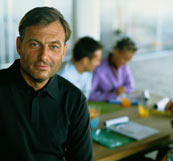 We're glad you believe that Aurora WDC might assist with the outsourcing of your intelligence needs! We have often found it useful to describe how we work with clients to determine their needs and become a partner in building competitive advantage.
For this reason, we have created this New & Prospective Client Orientation page to introduce prospective clients to the Firm, and to explain how we work with our clients to augment and enhance their intelligence capabilities. Below, you will find a description of the general process by which we work with new and prospective clients to determine their needs, propose solutions to those needs and satisfy their requirements both short- and long-term.
The four sections below illustrate our philosophy of how to work with new clients, as well as explains what you can expect as you first inquire, decide to request a proposal for work, engage Aurora's resources to satisfy your requirements and begin to build a relationship with our team.

Introduction
Aurora works on the basis of the Account-Client Model of providing support for outsourced intelligence services. To us, companies are "Accounts"; "Clients" are the people within those accounts. And people mean relationships -- relationships of trust and accountability -- these client relationships are the basis of our own Firm's competitive advantage.
And because we work with many of the most respected market leading companies in the world today, even though YOU might be new to Aurora as a client, we may very well have worked with other clients at your firm in the past on an account basis for previous engagements and have already established a substantial relationship between us. We strive to leverage this existing knowledge of your business drivers and competitive dynamics to add value to whatever projects we might assist you with.
Most intelligence consulting and research firms today frankly don't care much about conflicts-of-interest. In fact, when a CI firm claims to have worked with the largest clients in the world, they somehow overlook the fact that many of those firms compete directly with firms they otherwise might've studied. We view this issue as one of trust and disclosure, and find that, those firms that have not planned for the management of potential conflict-of-interest, are negligent in their duty to the clients that provide for the future of their business.
---
The Importance of Being Earnest - A Philosophy of Trust
Because business today is characterized as much by "co-opetition" as competition, we understand that many of your direct competitors in one market might also be customers or vendors of yours in others. For this reason, in addition to providing the information and analysis you need to successfully transfer marketshare to your bottom-line in the near-term, we ensure the strictest ethical compliance with respect to any existing or potential conflicts-of-interest.
This means that, we make sure our services have not been delivered to any of your direct competitors (especially ones you might seek Aurora to study) and, if we HAVE worked with a competitor of yours (quite likely, in all honesty), we ensure protection of the boundaries between the information you might provide us and that of your competitors' to successfully complete the projects you have in mind.
Again, for most intelligence consultants, this is a non-issue; at Aurora it is the very basis for our ability to work with you.
---
The Recon CI Solutions Sales Process
Once you've decided you're interested in hearing more about Aurora's capabilities, you can either Request a Brochure, or, if you've got a specific first project in mind, you can Request a Proposal. Of course, we're always happy to provide you with client references as well as sample project output and reports for your own due diligence.
When we've received your request, you can expect a response from the Office of the Managing Director within 24 hours - either a Brochure detailing our capabilities or a telephone call to discuss the particulars of the project you've got in mind. Within two weeks after having sent our brochure to you, we will follow up with a telephone call. If requesting a proposal, after we're received the specific objectives and deliverables associated with your project, we will submit a scope proposal and price quotation within 48 hours following receipt of your request.
During the first project we are hired to execute for you as a new client, you will be assigned a Client Intelligence Liaison with offices geographically nearby your own physical location. The Liaison will then become your primary point of contact with Aurora, acting as project manager, quality assurance and account supervisor to fulfill your intelligence needs. In addition, the Liaison staff will be responsible for ensuring Non-Disclosure of proprietary information for you and avoiding any potential conflicts-of-interest with Aurora's existing clientele. If there are any such potentialities then we will alert you to this fact and may possibly be forced not to accept your assignment.
---
The Client Intelligence Liaison
The Client Intelligence Liaison (or "CIL") is the cornerstone of Aurora's professional client service team, providing not only project management and quality assurance on research and analysis assignments, but also acting as an advisor and consultant to clients seeking to develop more sophisticated intelligence capabilities within the companies where they work.
Each Liaison is an expert in competitive and market intelligence, most having directed corporate intelligence departments themselves and all having at least had several years' experience in business management, tactical and strategic decision-making. Professionals in their own right, the CIL is the greatest asset clients can turn to for help in making sure their intelligence function performs at the highest level of the company's peer group.
The CIL's own compensation is tied directly to client satisfaction and their single-minded mission is to present the full range of Aurora's intelligence outsourcing and support resources to clients so they might assist in developing the highest value-added applications within the client firm based on the priorities of the client's near-term business performance goals and longer-term strategic and competitive advantage.
As one of the three operational groups within Aurora (the other two are the Office of the Managing Director and the Intelligence Research Analyst staff - see "Company Structure" for more information), the mission of every Liaison is to ensure client satisfaction with the intelligence services outsourced to the Recon CI Solutions team. The CIL may also provide training and advice to client personnel involved in structuring the intelligence function as well as selection of third-party products and services.