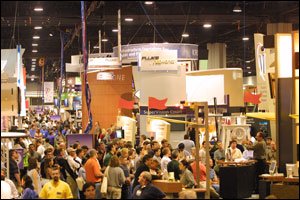 Every top CI team uses trade show and conference CI to augment their collection and analysis capabilities and it's not as tough to get started and ramp up a level of competence as you might think.
With the arrival of autumn comes the fall exhibition season and Aurora trade show specialists are fanning out across the country to visit some of the most significant industry events in a number of industries. It's possible we might already be visiting the show you're interested in scanning, so get in touch by calling 800-924-4249 or emailing Recon@AuroraWDC.com for more information about schedules, samples of research output/reports and daily rates.
Aurora can also help with trade show intelligence outside the USA and Canada - we've sent teams as well as individual analysts to shows in Europe, throughout Asia and Latin America. And, Aurora's industry background ranges from high-technology, consumer electronics and communications to pharmaceuticals, biotech and medical devices... plus many more.
Finally, when it's time to build your own competency in-house, we'll train your internal team and supplement your efforts on the ground with innovative approaches to acquire the intelligence you want and need, while protecting your own company from competitors running their own trade show intelligence operations.
A Critical Concentration of Intelligence Opportunities
Conferences and tradeshows are times when companies bring their latest and greatest products, services and technologies out for the industry to swoon over. You're seeking intelligence about competitors that either present or exhibit at conference and exposition events, but are reluctant or uncomfortable to ask them about their activities.
That's where Aurora comes in. While ethics dictate complete honesty about our identity, we can ask the questions your competitors representatives might not answer for you. Usually, this involves traveling to the event and interviewing personnel directly from your competitors' company, customer base or partner network - and, you'll be surprised by how economical a tradeshow or conference project can be.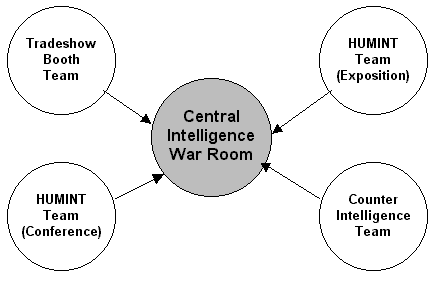 The most valuable reason to attend a national industry meeting is frequently overlooked. Simply put, it's a "target rich environment" in which those people most critical to your company's future ability to compete are gathered.
Who attends national trade shows?
Competitors
Your suppliers
Your competitors' suppliers
Industry analysts
Financial analysts
Trade Publication Editors
Gathering intelligence from competitive literature and anecdotal information is like reading yesterday's newspaper. It's already too late. In short, the trade show presents an impressive collection of industry influences, those with the most intimate knowledge and most vested interest in the information that drives the industry.
What Can Trade Show Intelligence Reveal About Your Competitors?
Plans & Intentions:

new products

new technologies

new alliances

marketing initiatives

new client acquisition strategies

new competitor strategies

Changes in:

pricing

distribution

costs

strategies

personnel

customer groups
There is an array of information you can discover in the open forum of a national gathering. The bottom line to you is a positive return on investment. Intelligence can give your company early warning to reduce client churn, increase market share by outmaneuvering rivals, and increase sales by focusing on "sell-against" strategies and compelling client acquisition methods.
Guidance for Conducting Tradeshow Intelligence
Designate one team who will have overall control of all tradeshow intelligence operations. This is your "War Room", responsible for getting through to the information needed and coordinating the collection efforts of the tradeshow intelligence. This team will direct the operation throughout, coordinating intelligence collection, debriefing on what employees have learned, and analyzing the implications.

Designate four teams: Tradeshow Booth, Exposition HUMINT, Conference HUMINT,and Counter-Intelligence. Each team will have a captain that reports to the War Room staff for debriefing each day.

The Tradeshow Booth team gives information they have heard and collected during the course of manning the tradeshow booth. The team captain reports daily findings to the War Room during a daily debriefing.

The HUMINT-Exposition team collects intelligence from the tradeshow exposition floor from competitors, competitors' competitors, clients, competitor clients, market experts, industry and financial analysts and others. The team captain reports daily findings to the War Room during a daily debriefing.

The HUMINT-Conference team collects intelligence from the tradeshow conference and seminars. Educational and training sessions hosted by competitors, industry experts, and others are important for collection. The team captain reports daily findings to the War Room during a daily debriefing.

The Counter-Intelligence team should be corporate intelligence or security personnel that are in charge of monitoring and deflecting other companies' efforts to get information. This includes with an effort to identify competitors' most aggressive collectors and training booth personnel on how to temper giving too much information with not enough to potential clients.

Start with two lists: What you need, and what you must protect. These lists should be short and memorable - you don't want to distribute this information through a lot of little, "losable," slips of paper. Ensure daily briefings cover this information to company employees.

Establish a central point for the War Room. Ideally, this should be close to the tradeshow facilities, such as a hotel room or suite. Daily debriefings are important. Team captains should debrief their teams and collect all information and present this to the War Room council at the daily debriefing meeting.

Train people in advance in the fine art of eliciting intelligence information, ethics (you don't want a bevy of James Bonds), and inform them of what will be expected of them. Make sure that they each understand that, while intelligence collection is crucial, their involvement will be simple to understand and easy to execute.

Debrief all company employees at the completion of the tradeshow on how the effort went, what they learned, and methods to improve the process at future events.
---

Derek Johnson, Aurora's Executive Director of the Recon Research & Analysis Bureau, comes from a strong financial background where he learned to understand the implications of correctly reading and interpreting a company's financial statements and using that understanding to make tough business decisions.
But he also loves the "softer" metrics of competitiveness, like success in product planning! And, as a member of PDMA, the Product Development and Management Association, Derek explores how NPD best practices impact a firm's bottom line.
A few months ago, Aurora sponsored a joint PDMA/SCIP meeting in Madison, Wisconsin to explore the implications of Competitive Intelligence for New Product Development. In this short essay, Derek gives us an overview of how CI can have a profound impact on how new products get to market and why companies must continually reinvent their product lines to stay ahead of the competition.

http://www.aurorawdc.com/dlj_npd_ci.pdf

---