Trade Show and Conference Intelligence
---
Learn more about Trade Show and Conference Intelligence Below:

Conferences and tradeshows are times when companies bring their latest and greatest products, services and technologies out for public display. Often, you're curious about competitors' that either present or exhibit at conference and exposition events, but are reluctant or uncomfortable to ask them about their activities.

That's where Aurora comes in -- while we're completely honest about whom we are and what it is we do, we can often ask the questions of your competitors' representatives that you cannot. Usually, this involves traveling to the event and interviewing personnel directly from your competitors' organizations -- and, you'll be surprised by how economical a tradeshow or conference project can be.
---
A Critical Concentration of Intelligence Opportunities
The most valuable reason to attend a national industry meeting is frequently overlooked. It is a "target rich environment" in which those people most critical to your company's future ability to compete are gathered.
Gathering intelligence from competitive literature and anecdotal information is like reading yesterday's newspaper. It's already too late.
Who attends national trade shows?
Competitors

Your suppliers

Your competitor's suppliers

Industry analysts

Financial analysts

Trade Publication Editors
In short, the trade show presents an impressive collection of industry influences, those with the most intimate knowledge and most vested interest in the information that drives the industry.
---
What Can Trade Show Intelligence Reveal About Your Competitors?
There is an array of information you can discover in the open forum of a national gathering.
Plans & Intentions:
new products

new technologies

new alliances

marketing initiatives

new client acquisition strategies

new competitor strategies
Changes in:
pricing

distribution

costs

strategies

personnel

customer groups
The bottom line to you is a positive return on investment. Intelligence can give your company early warning to reduce client churn, increase market share by outmaneuvering rivals, and increase sales by focusing on "sell-against" strategies and compelling client acquisition methods.
---
Guidance for Conducting Tradeshow Intelligence
Designate one team who will have overall control of all tradeshow intelligence operations. This is your "War Room", responsible for getting through to the information needed and coordinating the collection efforts of the tradeshow intelligence. This team will direct the operation throughout, coordinating intelligence collection, debriefing on what employees have learned, and analyzing the implications.

Designate four teams: Tradeshow Booth, Human Intelligence (HUMINT) - Exposition, HUMINT - Conference, and Counter-Intelligence. Each team will have a captain that reports to the War Room staff for debriefing.

The Tradeshow Booth team gives information they have heard and collected during the course of manning the tradeshow booth. The team captain reports daily findings to the War Room during a daily debriefing.

The HUMINT-Exposition team collects intelligence from the tradeshow exposition floor from competitors, competitors' competitors, clients, competitor clients, market experts, industry and financial analysts and others. The team captain reports daily findings to the War Room during a daily debriefing.

The HUMINT-Conference team collects intelligence from the tradeshow conference and seminars. Educational and training sessions hosted by competitors, industry experts, and others are important for collection. The team captain reports daily findings to the War Room during a daily debriefing.

The Counter-Intelligence team should be corporate intelligence or security personnel that are in charge of monitoring and deflecting other companies' efforts to get information. This includes with an effort to identify competitors' most aggressive collectors and training booth personnel on how to temper giving too much information with not enough to potential clients.

Start with two lists: What you need, and what you must protect. These lists should be short and memorable - you don't want to distribute this information through a lot of little, "losable," slips of paper. Ensure daily briefings cover this information to company employees.

Establish a central point for the War Room. Ideally, this should be close to the tradeshow facilities, such as a hotel room or suite. Daily debriefings are important. Team captains should debrief their teams and collect all information and present this to the War Room council at the daily debriefing meeting.

Train people in advance in the fine art of eliciting intelligence information, ethics (you don't want a bevy of James Bonds), and inform them of what will be expected of them. Make sure that they each understand that, while intelligence collection is crucial, their involvement will be simple to understand and easy to execute.

Debrief all company employees at the completion of the tradeshow on how the effort went, what they learned, and methods to improve the process at future events.
Example Tradeshow Intelligence Model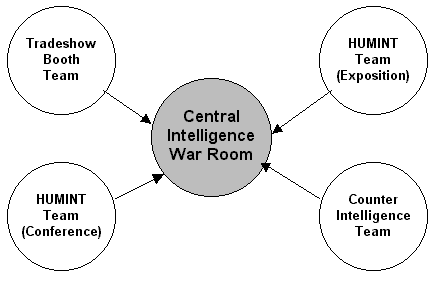 ---
Please tell us a few details (whatever you're comfortable with) about the nature of your interest in conducting trade show intelligence and at which event coming up. Any and all information disclosed during your submission will be sent via encrypted email and all guidelines of our standard Non-Disclosure Agreement apply, as indicated below. We will contact you within one business day with suggestions for you and to discuss further possibilities how Aurora's Recon CI Solutions might be of assistance.
---

Please Let Us Know How to Contact You to Discuss Your Needs:
[please include your name, phone number, organization and email address]
Any and all information submitted via the form above, shall be considered confidential and proprietary information by Aurora WDC and its staff. We pledge not to reveal information entered above to anyone for a period of not less than five (5) years. This service is provided as a means of delivering advice regarding upcoming trade show events and related competitive intelligence services availabile to our clients in connection with such events. Further legal details may referred to in our Terms of Use Agreement for AuroraWDC.com.
Signed and Authorized,



Arik R. Johnson
Managing Director
Aurora WDC